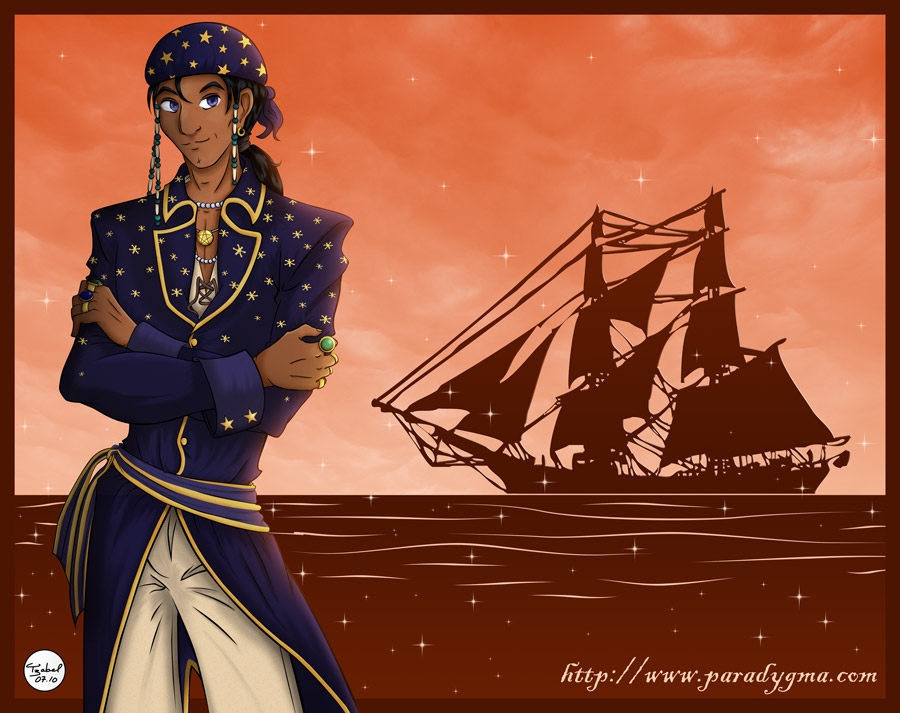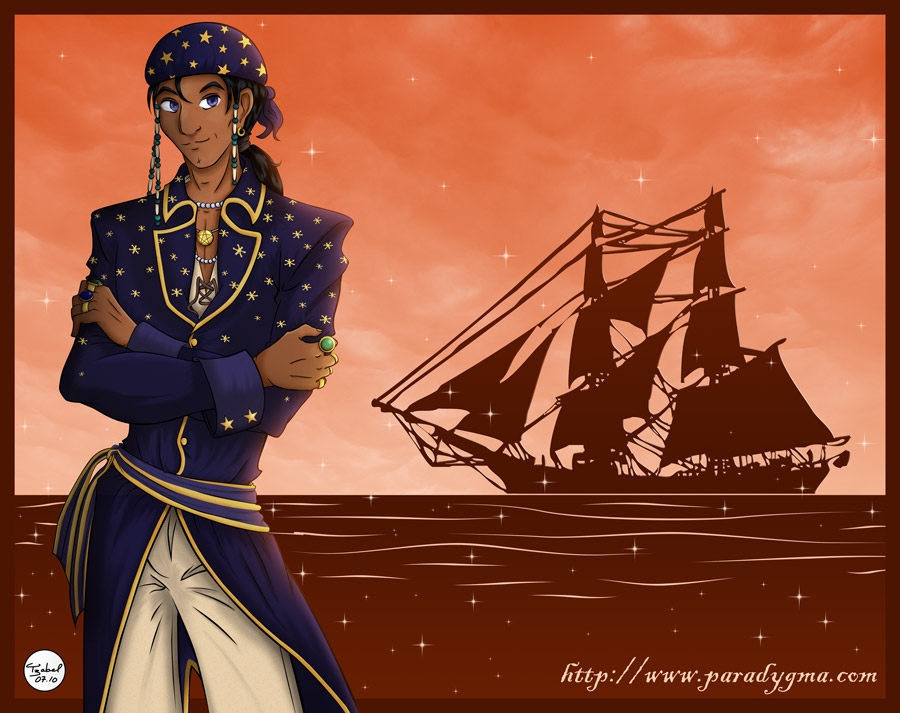 Watch
He was the captain and we were the crew
He gave the orders, we knew what to do
Out on the ocean, just my friends and me
Waltzing the waters and dancing the sea
—Captain Bogg and Salty,
Waltz of the Waves
—
Media | Time | Soundtrack
English:
After many hours of trying to get Photoshop, and my computer as a whole, to work by 35°C... here comes, in all its coloured glory and pearls and jewels and stuff, the final version of
the Chaldean
, the Eshu captain of the pirate ship
Wyvern
.
The
Wyvern
and her crew were created for

's 1620
Sorcerer's Crusade
game. The Chaldean (here in his human form, not his Fae mien) claims to be a 3000-year-old Eshu who's been sailing the seven seas and more for approximately just as long. Of course, everybody knows Eshus tell a lot of stories, half of which aren't exactly true. But who cares? He remains the ship's badass captain all the same. And what
is
true is that he also has a serious tendency to pile up various artifacts and other somewhat magickal items on the ship, gathered from the Gods know where throughout the world.
Français:
Après bien des heures passées à tenter de faire marcher Photoshop et mon PC par 35°C... voici donc, dans toute sa splendeur colorée et bien bling-bling, la version finale du
Chaldéen
, capitaine Eshu du vaisseau pirate
La Vouivre
.
La Vouivre
et son équipage ont été créés par

et ses joueurs tous fous pour une série de petits scénarii à
Sorcerer's Crusade
en 1620. Le Chaldéen (ici sous sa forme humaine, pas féérique) prétend avoir dans les 3000 ans et avoir sillonné les sept mers et au-delà pendant à peu près autant d'années. Bien sûr, tout le monde sait que les Eshus racontent beaucoup, beaucoup d'histoires, dont la moitié sont fort... enjolivées. Ceci dit, l'équipage s'en fout, parce que son capitaine poutre bien sa race, mine de rien. Ce qui est vrai, par contre, c'est qu'il a une tendance notoire à la collectionite chronique d'artefacts et d'objets plus ou moins magiques, récupérés les Dieux seuls savent où à travers le monde.
Clouds texture by

. I still suck at doing backgrounds. On the other hand, working on complex 300 dpi backgrounds on an EeePC 1000H clearly in hot summer isn't exactly 'setting myself up for success' in that regard.

Sorcerer's Crusade and Changeling: The Dreaming are ©White Wolf. The character is ©~rapunzelita.

Related pictures:
+ Of Mages and Pirates