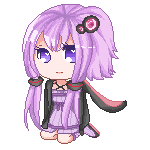 This group is a Fanclub for Vocaloid3 Yuzuki Yukari! We allow every, and any, kind of art that features Yuzuki! (Including cosplay)

The rules are simple:
:thumb397675394: Do NOT steal someone else's artwork!
:thumb397675394: The picture MUST include Yuzuki Yukari in it!
:thumb397675394: Do not be rude to other members! Be nice and don't make drama in the club.
:thumb397675394: NSFW is allowed, but please tag it!
:thumb397675394: If you use bases in your art, give credit to base maker

If you have questions, feel free to ask Mochi-Alpaca




You don't know her?


Here are some samples of her voice~!
Yuzuki Yukari Voice Sample 1
Yuzuki Yukari Voice Sample 2
Yuzuki Yukari Voice Sample 3