I've been meaning to make a FAQ journal for such a long time but i was so lazy... and i'm not lazy now so here it is

These are questions i've been asked a lot of times. If you have any other questions you can ask here C:
1. How do you make your flash comics? Can you make a tutorial? What programs did you use?
I made the flash comics art in Adobe Photoshop (or any art program) and i made it have buttons and so on in Adobe Flash. I'm making a tutorial but it's very long (already made 40 pages and i'm not even half way) so it will take a while. Here are some other tutorials that might help you:
yuumei.deviantart.com/art/Flas…
by
yuumei
chi-u.deviantart.com/art/Ultim…
by
chi-u
here is a cool dA preloader
devart.deviantart.com/art/Offi…
by
devart
2. Can i use your art for a project or trace/copy/reference it?
Yes, you may do the following things: use my art for school projects (don't forget to credit me), you may trace it, you many try to re-create it digitally or traditionally or with whatever media you want, you may draw my characters (actually i love it when other people draw my characters!), you may repost my art on your website with the condition that you link back,
If it's on dA please credit me in the description with a link to the original deviation and my name clickable like this
Yuuza
or

, if it's on another site then you must link back. Please don't crop or remove my watermark!
If you want to use my art for a poster for your band or thing, even if you don't make any money off of the event, you have to ask me first! Don't use my art for events without asking!
Don't repost my art on facebook, instagram, pixiv, tumblr, etc, without crediting me clearly in the description with a LINK to my gallery. Posting it without credit is like saying it is yours,
which is a huge no-no
.
DO NOT PRINT MY ART ON BAGS OR IPHONE CASES OR ANYTHING OF THE SORT AND SELL IT! Making a profit off of my art is a huge no-no!
3. Can i edit your artworks?
No. You can recreate them, learn from them, do studies, but not directly edit them. Please don't use my work in photo-manipulations, don't crop it, don't create renders with it, don't apply filters to it and repost. And definitely DO NOT remove my watermark.
4. Do you do requests?
Only for very close friends, sorry

5. How do you make your animations?
There are 2 ways i make them. The blinking chibis with Adobe Photoshop's animation feature (here's the tutorial i learned from
niaro.deviantart.com/art/Color…
by
niaro
) and i save it as a .gif but that encodes the image for the web and a lot of color and details are lost so it will only look good for an animation with a small color palette.
I make the other animations using Adobe Flash (i make the art in Adobe Photoshop or Paint Tool Sai). There is no loss in details or color like this.
6. Can you join my contest?
No, sorry, i have a lot of bad experiences with contests on dA and i just don't want to put my time and energy into something like this anymore.
7. How do you make your art? What programs do yo use? Do you take art classes? What books/materials/sites do you learn from? How long does it take you to make a drawing? For how long have you been drawing? Are you going to make an art tutorial?
I paint until it looks decent, no special techniques. If it still doesn't look good then i add a texture.
I use Photoshop and Paint Tool Sai simultaneously (i joggle between them but lately i use Sai a lot more).
I don't take any art classes.
There is only one book i use for drawing hands "Burne Hogarth - Drawing Dynamic Hands" you can read it online here
www.floobynooby.com/FAD/Burne%…
(i know it's not very obvious i learn from it but give it some time QAQ)
I finish a drawing in 3 days if everything goes smoothly, 5-7 days for the very complicated ones. If i have a hard time drawing something i either drop it or drag it on for months O.o.
I've been drawing digitally since i joined dA and traditionally since i could hold a pencil in my hand
As for tutorials, here's one i made on patterns

a step by step

of this drawing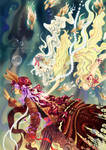 here's an interview i did for

if you want to find out more about me

Interview with YuuzaHello, this is

TheGreatMillz33

, one of the administrators of

ArtisticAnimanga

! Just recently, I've been able to interview one of the group's wonderful artists,

Yuuza

. She is well versed in creating traditional and digital works of fantasy. I hope you enjoy the interview!
:iconTheGreatMillz33:
How about you give a quick introduction of yourself?

:iconYuuza:
Hi there, nice to meet you. I'm Yuuza and I'm an anime artist from Bucharest, Romania.
:iconTheGreatMillz33:
What other interests or hobbies do you have other than art? Any favorite anime, games, shows, or books that you love?
:iconYuuza:
Other than drawing, I also enjoy playing the guitar (I'm don't play too well but it's good enough for me)
As a favorite game, that would be chess, I really don't play any video games. A recent favorite tv show is 'the big bang theory' which I really, really love

. As for animes, I watched so many the list wou
my Paint Tool Sai brush settings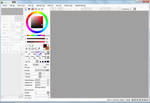 There is another more recent interview by

I answer many questions there more in depth. You can read it here:

Manga/Anime Beauty #11- Yuuza
Manga/Anime Beauty - An Interview with

Yuuza





Manga/Anime / Digital Media / Paintings / SAI&Photoshop
Hello lovely devious people!

Today is the first day of the year, a new beginning, new hopes - and of course, a new Manga/Anime beauty Interview!


Welcome to the eleventh issue of my interview series.


To start the year with luck for us, anime/manga lovers, I bring further one of the most admired artists in the community, with an astounding, expressive and storytelling style, impressive coloring skills and much sympathy to handle - it is her, our star

Yuuza

!


I feel very honored to be interviewing this artist whose art I admire so much, and I hope you'll enjoy reading through this interview as much as I did hosting it!

Please note: All the artworks featured on this article were chosen by the deviants themselves, and are considered by them their most
Thank you so much for the watches, faves and comments


i really appreciate it

Also, if you have any question, ask them here and i will put them in the faq