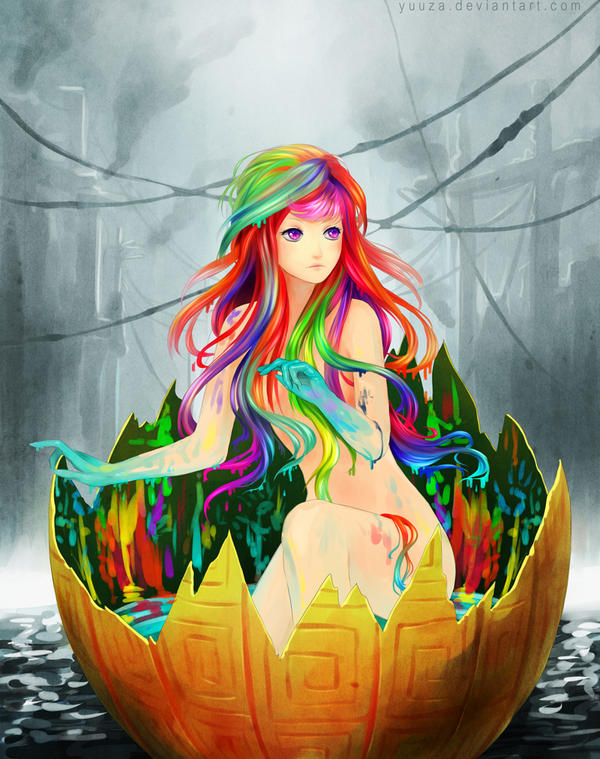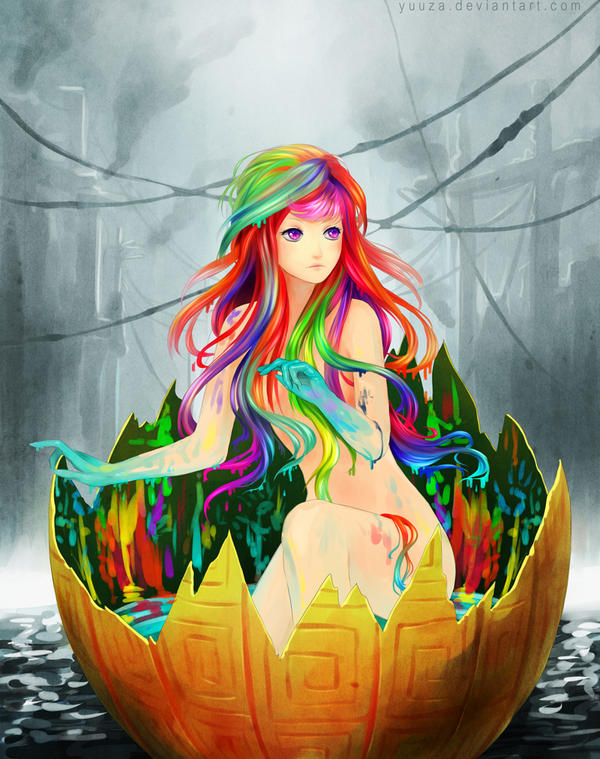 Watch
over the top titles FTW

pffffff so i woke up yesterday thinking there just isn't enough rainbow hair

this drawing is a lie, artists actually crawl from under rocks

you might ask yourself where is the other part of the egg, the truth is... she ate it


people keep asking how i made this OAO and luckily i always keep the original speedpaint in the .psd so i uploaded it on my tumblr
yuuza.tumblr.com/image/3775001…
i made this in an hour - an hour and a half and then polisted it, added a texture and a contrast and voila!


i made a new drawing of her
check it out!


It's my first critique, and I am Spanish, so, sorry if I have mistakes. I have done with my best intentions.

Vision: well, the first thing I saw was the colorful image of the girl, her hair, and the egg. Then I noticed the great contrast between that and the very grey background. That makes the picture really interesting.

Originality: I like the idea of artist being born of artistic eggs in a grey and sad world. It's really new for me. I think it says that draftsmen are trained and they can draw great things, but artist are born, because artist do more than just drawing.

Technique: I find the shading in the egg perfect. There isn't much shading on the girl, but as I saw in your drawing "Paint yourself the colors YOU want", you have improved on that. Anyway, the shape of the girl is divine and the hair has a lot of variated colors. Also, the hair is perfectly colored. The background looks more dead and sad, so I think it fulfills its purpose perfectly.

Impact: the idea of artist being born in that situation is impressive itself. The girl looks like she doesn't know where she is, but she is relaxed and determined. Like an artist: you don't know where you are, but you want to do something glorious, something legendary.

Hope you like it. Anyway, I love this artpiece.
The Artist thought this was FAIR
87 out of 88 deviants thought this was fair.