Today, the continuation of Photography 101! (I feel like an American TV-host saying this!)
In the previous chapter we talked about the basics, some important terms in photography and how to change the way you look at things. If you haven't read that chapter yet, you should! Check out the first chapter here:
Photography 101: Basics and Looking
Please make sure to read that before you start chapter two down below.
Photography 101: A photography guide


Welcome to Chapter Two of Photography 101! Today we will be talking about something that has always proven very important to me in photography: composition and location.
Composition
In photography, and pretty much all visual art-forms, composition is crucial. Composition can either make or break your image, it can make your image intriguing or utterly boring.
A quick overview of all the composition topics that will be discussed in this chapter:
Rule of thirds
Rule of odds

Rule of space

Simplification
Even though all this may sound very simple, it's not. Composition is, in my opinion, a grey area. Something like a "correct" or "wrong" composition does not exist, however, a "good" or "bad" composition do.
According to wikipedia, "composition is the placement or arrangement of visual elements or ingredients in a work of art, as distinct from the subject of a work. It can also be thought of as the organization of the elements of art according to the principles of art."
"The term composition means 'putting together,' and can apply to any work of art, from music to writing to photography, that is arranged or put together using conscious thought. In the visual arts, composition is often used interchangeably with various terms such as design, form, visual ordering, or formal structure, depending on the context."
Rule of thirds

When I first started out in photography and learned about composition I learned about the rule of thirds.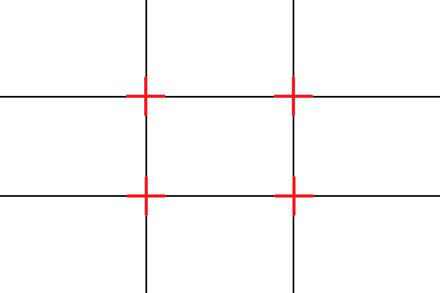 (Click to open!)
The rule of thirds is a rule of thumb for your composition. From my own experience I have learned that cropping your photo, or shooting it following this diagram, can (and likely will!) make your photo more interesting than when you just point and shoot.
The lines you can see in above diagram are positioned at exactly one third of your image, this goes for the horizontal and the vertical lines. The places where the lines cross are the places in the image where our eyes usually dwell first. When you look at above diagram, you'll notice the first thing you see are the red crosses in the image. This is not just because they are red…