So, as dear

suggested and encouraged me, I decided to do a whole Tarot card serie, which contains 21 Major Arcana cards (well actually it's 22, but I decided to skip one, I'll leave in my serie the first not numbered card - 0: "the fool", but I decided not to do the last one - the 21st: "the world").
I looked into this matter, learned meanings and most common representation/ interpretation/ symbols of the cards. So I have a few future ideas for some cards (of course in my own totally different and insane interpretational way

), but anyway if you have any suggestions or ideas - you're so welcome to leave them at this journals comments.

(please? any ideas?)
btw if you would like to help me out, but don't know anything about Tarot cards or which card should represent what, you can always ask me and I will be most happy to answer

I'm not a big Tarot cards lover myself, but I read the wikipedia article, and wikipedia knows all, yeah?


Ok so if you are interested and liked first two experimental attempts like "the hanged man" -->
fav.me/d366m4a
or the "siamese twins" (which now will represent the card number 14: "Temperance") -->
yuujin.deviantart.com/art/Siam…
here I am planning to post my progress bar of other 19 cards.
MAJOR ARCANA:




0: "The Fool" -->
fav.me/d38nx50




1: "The Magician"




2: "The High Priestess"




3: "The Empress"




4: "The Emperor" -->
yuujin.deviantart.com/art/The-…




5: "The Hierophant"




6: "The Lovers" -->
yuujin.deviantart.com/art/The-…




7: "The Chariot"




8: "Justice"




9: "The Hermit"




10: "Wheel of Fortune"




11: "Strength" -->
yuujin.deviantart.com/art/Stre…
?




12: "The Hanged Man" -->
fav.me/d366m4a




13: "Death" -->
yuujin.deviantart.com/art/Deat…




14: "Temperance" -->
fav.me/d366nhw




15: "The Devil"




16: "The Tower"




17: "The Star"




18: "The Moon" -->
yuujin.deviantart.com/art/The-…




19: "The Sun"




20: "Judgment"
first star

will mean what I done a sketch
second star

- in coloring process
three stars



- complete (uploading on DA

)

:thumb158266413::thumb158266413::thumb158266413:

RULES:
~ Please be patient
~ Please be as specific as you can when ordering, don't forget to add what coloring do you want and in what media.
~ Please don't claim, alter or take it for commercial usage. Please ask me first before using it somewhere else.
~ I have every right to decline if I feel uncomfortable with whatever you're requesting
~ Please NOTE me if you want to commission me
~ Sorry but I cannot draw: mechas, furries, pr0n, extreme gore, vector art.
( but it's not forbidden to write your request and then we'll see if I can draw something exceptional

)
~I do digital and traditional coloring. If you want traditional one, you can choose what media I will use (pencils, watercolors, pastels, ink…).
::examples::
digital
traditional:
watercolors
markers
color-pencils
PRICES:
~ Chibi colored 5$ / 4€
~ Coloring job (I will color YOUR artwork) 10$ / 7 €
~ Head shot 7$ / 5€
~ Half body/ waist up 10$ / 7 €
~ Full body/ clubs up 15$ / 11€
~ Realistic portrait 15$ / 11€
Discounts (if you want just):
-3$ / 2€ *rough sketch
-2$ / 1€ *lineart (I can even prepare a *.psd file for you, where lineart is on different transparent layer)
-1$ / 0.5€ *b/w / grayscale shading
-1$ / 0.5€ *less colors/ shading (well similar to cell shading I guess)
Additional costs:
*additional chibi 3$ / 2€
*additional character 5$ / 4€
*complex background (usually I prefer solid or abstract bg)
*Changes on finished work (past-changes time, can't stand when people changes their mind totally after everything is done...) 2$ / 1€ +
Process:

--> You send a note with request (name it "commission")
--> I agree
--> I send you a sketch
--> You approve (any changes just in this stage!)
--> You pay half/ full
--> I send you a watermarked version of finished work
--> You pay next half (or what is left)
--> I send you the final piece in high quality (300dpi)
FAQ:
...
Examples: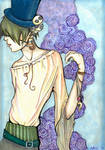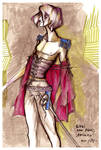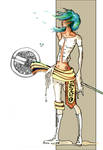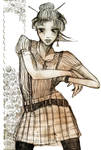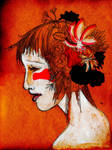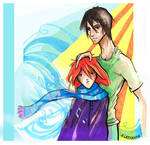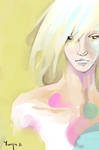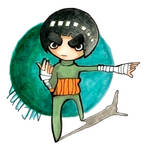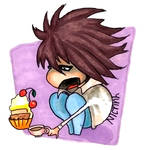 Open slots
(ten for a start):
1.---
2.---
3.---
4.---
5.---
6.---
7.---
8.---
9.---
10.---








------------------------------------------------
Please take a few minutes to visit my webcomic - updates every weekend