Table Turner : Sonohanabira's Doujinshi(Book) has opened for ordering and shipping.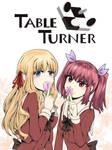 Detail : Doujinshi of Sonohanabira ni kuchizuke wo series by Fuguriya Circle and Yurinyurin.
The book is B5 size with front and back color cover, 78 pages of black and white contents. This is 15+ Doujinshi
The contents are speechless 4 panels manga of 7 Couples from Table turner inside my galleries which are Yuna x Nanami - Sara x Kaede - Mai x Reo - Rena x Takako x Runa - Shizuku x Erisu - Risa x Miya - Rikka x Sayuki. The special thing about this book is there are "Secret Ending" for each couples exclusively in this physical book. Yes, they are the ending which continue from the last page in my galleries, here are the samples
Yuna x Nanami Secret Ending Sample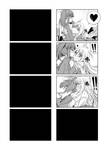 Shizuku x Erisu Secret Ending Sample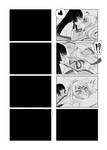 This is self publish work, so the qualities might not be top notch please forgive me.
Please follow this step to order this Doujinshi.
1. Message me the number of book you want together with your name and address for shipping. You can message me by Deviantart message or my E-mail yuriwhale@gmail.com
2. I will confirm you the total cost (Book + Envelope + Shipping cost) The book itself is 8US$ , the shipping cost outside Thailand is 7US$ for 1 book and 11US$ for 2 books (Registered air mail)
3. After I confirm the total cost, I would like to have you pay by Paypal which is yuriwhale@gmail.com (yes, same as my E-mail)
4. After receiving the money, I will ship the book within 2 days and I will give you tracking number for checking.