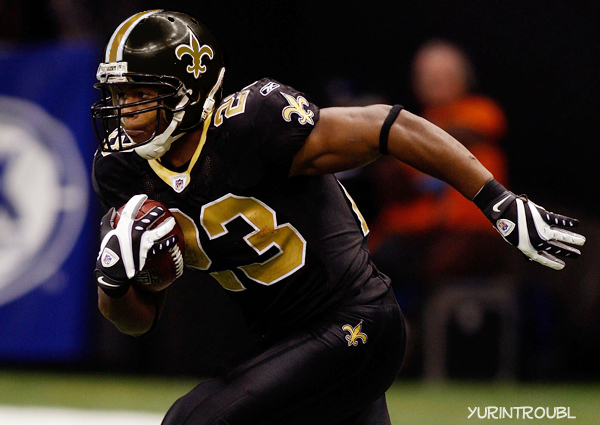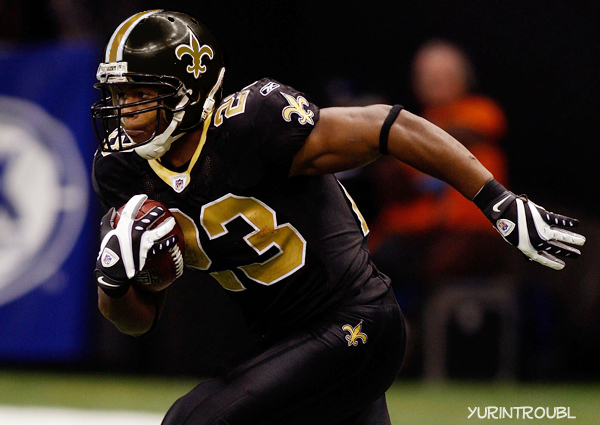 Watch
The New Orleans Saints have recently joined a number of NFL teams who feature a Black/Black uniform... They have never worn helmets with a color scheme different than their original - Gold Helmet featuring a black fleur-de-lis (outlined in white/black) and a white center stripe outlined in black.
I wanted to see how the Black/Black uniforms would look with a Black helmet...
Too bad the NFL doesn't allow alternate helmets to be worn for regular season games (except approved "throwback" designs).
Regarding credits:
I did not take this picture myself, only manipulate the colors. The player in the image is Pierre Thomas. The pre-photoshop image itself can be found on numerous websites - including NFL.com -
[link]
The original image was photographed by Chris Graythen.

@yurintroubl...that's an excellent Photoshop creation! YEARS AGO, I always wondered what my Saints uniforms would look like w/ black helmets/gold fleur-de-lis, and wondered why we never did attempt to even try it. Well, I did my research...and...during the 1969 PRESEASON, the Saints wore a helmet just like the one you have here but w/ grey face masks. But, the owner of the team @ that time didn't consult w/ the NFL association, so the helmets were "banned". I mean, we could try it again during preseason during present day 'n' see how fans like it now, ya know!? Here's a link if anyone would care to see the original "throwback" BLACK Saints helmet...
[link]
[link]
Reply

Could you do an all-black Seahawks?
Reply

I was the HANGpee guy, made a new account did not like my username. So I just thought I would comment again under my new name. So..... This is NICE!!! They should bring back the black helmet NO DOUBT all black would be sick!
Reply

Correction for my comment above it was the entire 1969 pre season.
Reply

Hey there... Just wanted to let you know - Yes, I am aware of the pre-season black helmets. In retrospect - I should have said

"They have never worn helmets with a color scheme different than their original for a regular-season game."

FWIW - I actually samples from an original to match the colors for the one on Pierre. I decided, however, to keep the current black face mask rather than the white/light gray from the '69 version.

Thanks for taking the time to relay the info. I'm already looking forward to next season!
Reply

No problem man! I like it though, I been saying for years that they should wear the black helmet, with the actual 1969 throwback uniform, but the edit that you did looks good man. I would not mind seeing them play in that at all man looks legit.
Reply

"They have never worn helmets with a color scheme different than their original"
I took the above statement from your description, and just wanted to point out that you are mistaken to a point.
Yes, the saints have never wore a different helmet other than the gold helmet and the fleur de lis on the helmet has changed over the years but that is besides the point.
What i wanted to say is that in the 1969 the saint in fact did wear a black helmet. It was in a pre season game only.
[link]
Just thought you would like to know this, if you did not already.
Reply

wat u should do is send dat picture to saints the public relations department
Reply

Pierre Thomas!!!!! I <3 Him!!!
Nice picture. He looks so good looking in all black.

Reply

i wonder how the saints look with all gold uniforms
Reply

kool
back helmet and white jersey would look good to
Reply

I do like your helmet idea, but I've seen an all white saints Uniform I think I like even more!
Reply

Reply