updated examples.
So a bit time ago, I asked in a poll what people would be interested in and listed price for each option. And it seems like almost all of the options got votes. So what better than to just open everything at once? = v =
Also sorry this might be a bit messy, DO's and DON't's are at the end as well as a form to fill out.
。・:*:・゚★,。・:*:・゚☆。・:*:・゚★,。・:*:・゚☆。・:*:・゚★,。・:*:・゚☆。・:*:・゚★,。・:*:・゚☆。・:*:・゚★,。・:*:・゚☆
Disclaimers:
!! I can decline your commission if I feel like I can't do it! !!
!! complex characters cost extra! (by complex, I mean characters that I see as complex for my skill level) ask if unsure! !!
Few quick rules/terms of service

-FILL OUT THE FORM! do not ask me "can I have ___" just fill out the form.
- these might take anywhere from 1 month to 6 months (worst case scenario) depending on how many people commission me. So please be patient.
- you have right to WIP's and updates at any point and time and I'll do my best to provide them!
- no refunds after I've started. Please be 100% sure you want to commission me!
-You have 24 hours to pay, from when I accept your commission
- If you fail to pay the commission within 24 hours your commission will be automatically cancelled and you will be blacklisted.
- I WILL NOT DESIGN YOUR CHARACTER/ DRAW FROM DESCRIPTIONS!
- PayPal payment via here: www.paypal.me/Yumemin
- points payment via gift option!
1$ = 100 pts
。・:*:・゚★,。・:*:・゚☆。・:*:・゚★,。・:*:・゚☆。・:*:・゚★,。・:*:・゚☆。・:*:・゚★,。・:*:・゚☆。・:*:・゚★,。・:*:・゚☆


Following commissions are available
*:・゚✧*:・゚✧
*:・゚✧*:・゚✧


FULLY SHADED AND COLORED COMMISSIONS (OPEN)All examples are from new to old from left to right


props cost $5-$10 depending on complexity
complex character designs cost $10 more
extra complex and detailed designs cost $15 more
adding a deadline costs $15
✧*:・゚✧


Headshots: 25$
(headshots are usually from front only, still not all that good with other poses...)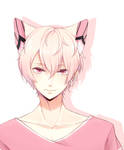 simple background possible
Halfbody: 35$
extra character costs 35$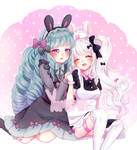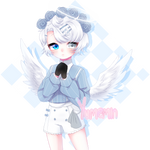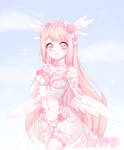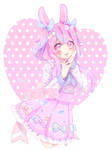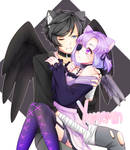 these will have simple background with one color or pattern or they can be transparent if you wish
proper background costs anywhere from 5$ to 15$ extra, depending on what it is


fullbody: 50$ (female characters only, or girly/feminine boys)
extra character costs 50$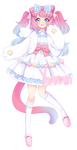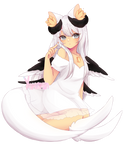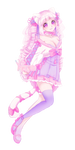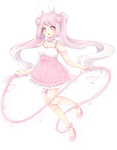 these will not have background and will be transparent
*:・゚✧*:・゚✧
*:・゚✧*:・゚✧
Dream chibi
: 35$ (skinnier chibi's)
extra character costs 35$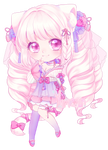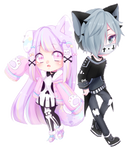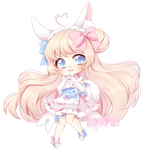 no background unless asked for. Simple background is free. (check examples from halfbodies)
Chubby chibi
: 25$ (chubbier chibis with less shading, more dependent on effects and shine and such)
extra character costs 25$
no background
Mini chibis
coloring style will be like in regular chibis but the size is different and lines thicker
*:・゚✧*:・゚✧
*:・゚✧*:・゚✧


Icon commissions here:
Icon commissions [OPEN]
。・:*:・゚★,。・:*:・゚☆。・:*:・゚★,。・:*:・゚☆。・:*:・゚★,。・:*:・゚☆。・:*:・゚★,。・:*:・゚☆。・:*:・゚★,。・:*:・゚☆


What I can draw:
+male and female characters (guys might turn a bit feminine, as you can see I draw more girls) +
+ children, adult, teens +
+ Cute characters +

+oc's +
+humanoid closed species +
+humanoids only+
+couples+
+yaoi, yuri and hetero+
What I can draw but am not very good at:

(commission at your own risk)
✧ wings
✧

✧ hats
✧
✧ animal like traits such as legs or arms being paws✧
What I can't or won't draw:
- animals-
- overly muscular or fat characters-
- fetish art-
- nsfw-
- buildings, cars or complex backgrounds -
- furries/anthro (flat faced furries are ok tho)-
-from life, selfies etc.-
-fanart (depends on subject tho)-
-oc x canon (just personal taste)-
-in different art styles, I have my style, and that's what I will stick to-
。・:*:・゚★,。・:*:・゚☆。・:*:・゚★,。・:*:・゚☆。・:*:・゚★,。・:*:・゚☆。・:*:・゚★,。・:*:・゚☆。・:*:・゚★,。・:*:・゚☆

If you're interested, note me or comment with this form filled out!


FORM:
+Commissioner: (your username)
+ Commission: (halfbody, chibi, fullbody, pixel etc. if asking for a sketch, make sure you mention it.)
+ Character: (character reference, no description. I need pictures, feel free to link their TH or something)
+ About character: (anything, simple personality or stuff people usually miss etc. DO WRITE SOMETHING. )

+Wishes for commission: (pose, expression etc.)
+Payment method: (paypal or Points)

If commissioning for couple art, make sure to give me enough info about the relationship between characters, possible wishes for poses and such
。・:*:・゚★,。・:*:・゚☆。・:*:・゚★,。・:*:・゚☆。・:*:・゚★,。・:*:・゚☆。・:*:・゚★,。・:*:・゚☆。・:*:・゚★,。・:*:・゚☆


if you have questions, note me or comment!


。・:*:・゚★,。・:*:・゚☆。・:*:・゚★,。・:*:・゚☆。・:*:・゚★,。・:*:・゚☆。・:*:・゚★,。・:*:・゚☆。・:*:・゚★,。・:*:・゚☆




Also check out my YCH's!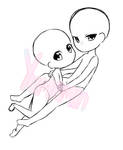 headshot YCH to be revamped!
here's newest example for it:





WAITLIST