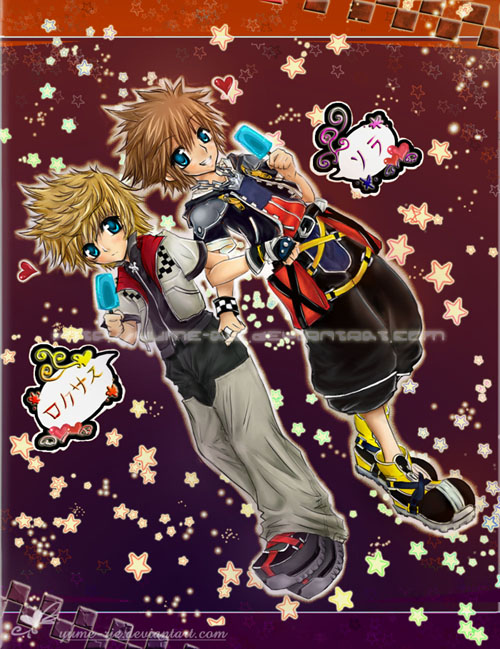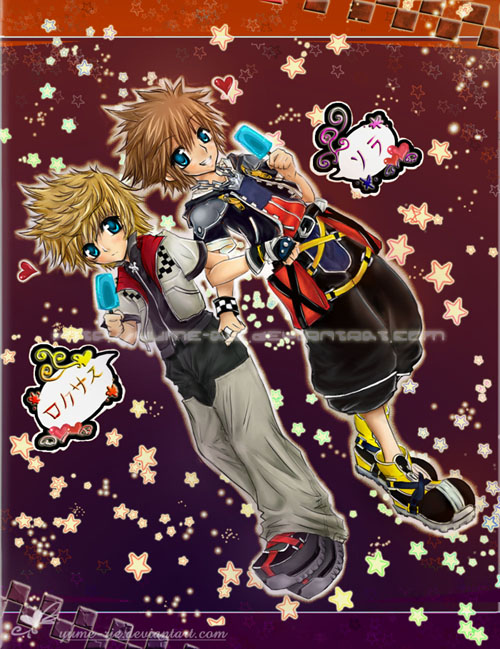 Watch
+ Full view if wanna see the crappiness! XD +
ROKUSORA!!


KYAAA! XDDDD.. its kh2 fanart again sry guys LOL...
-okayy, firstly it was a bookmark..but i added the sora..8D and i had it on my mind to make this pic really bright and colorful..but came out the opposite i guess..

...
-CHIBIS! like it?

Roxas looks liek a gurl!

hehe, sora somehow looks like tidus is he's blond...>_>"
-the sea-salt ice cream looks shiny...X))) gahhhh SRY i love this pic!

cuz its Rokusora LOL..XDD
kyaaaaa, hope u guys love this pic as much as i do!


but really, i think i overdone this pic..

2000000000000++ hrs lol..
Photoshop 7~ X3
Sora and Roxas (c) Tetsuya Nomura, Kingdom Hearts 2, Square-Enix
EDIT-changed the title cuz..welll..>____>;; Rokusora sounded weird..? XD;;; makes no diff anyways
EDIT 22/2/07
- i changed the resolution and added a watermark to prevent unwanted thefts to happen again D:
i also fixed a couple of things that have bugged me >__< (pants folds, roxas' face LOL)
i know it looks rly ugly but it cant be helped.. please dont steal any of my art or i may have no choice but to take them all down..