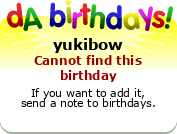 All pronouns are fine still figuring this shit | I've had enough life experience | Gemini ♊ | Stenny Trash | Tordmatt/Mattord/Tatt Trash | Edd head | Aesthetic lover | Cosplayer | Artist |
☆ Aesthetics are meant to be beautiful to you, don't let people control what you find beautiful. ☆
yo I'm Wynn and I'm a mess. I'm into Eddsworld and decided to keep my old art on here to show that everyone improves I'm an IB art student who is also in advance drawing and I'm by far not the best but I aim to want to gain a better knowledge of are. I also like photography. With that I am a pretty awkward person but don't worry I like make friends.
Be sure to look out for my art!
Favourite Visual Artist
Anyone. c:
Favourite Movies
Forrest Gump<3 My Life is also a movie, just about how weird and random and perverted I am. >u<
Favourite TV Shows
Can the BTT be a T.v show...? I mean like- Yeah...
Favourite Bands / Musical Artists
P!nk,Green Day,Orianthi,2NE1, Girls Generation, Do the Nordic 5 from Hetalia Count?
Favourite Books
Books? Oh. You mean Fanfics!
Favourite Writers
I don't know. ;n;
Favourite Games
POKKEEEMOOONNNNN<3 Notice me Senpai...? ;u; Oh And the Sims for PC and DS/3DS
Favourite Gaming Platform
Laptop, any DS.
Tools of the Trade
Unkown...! ;D
Other Interests
Being MEEEE~!<3 ((Senpai, there needs to be more people like me in the world. c: ))