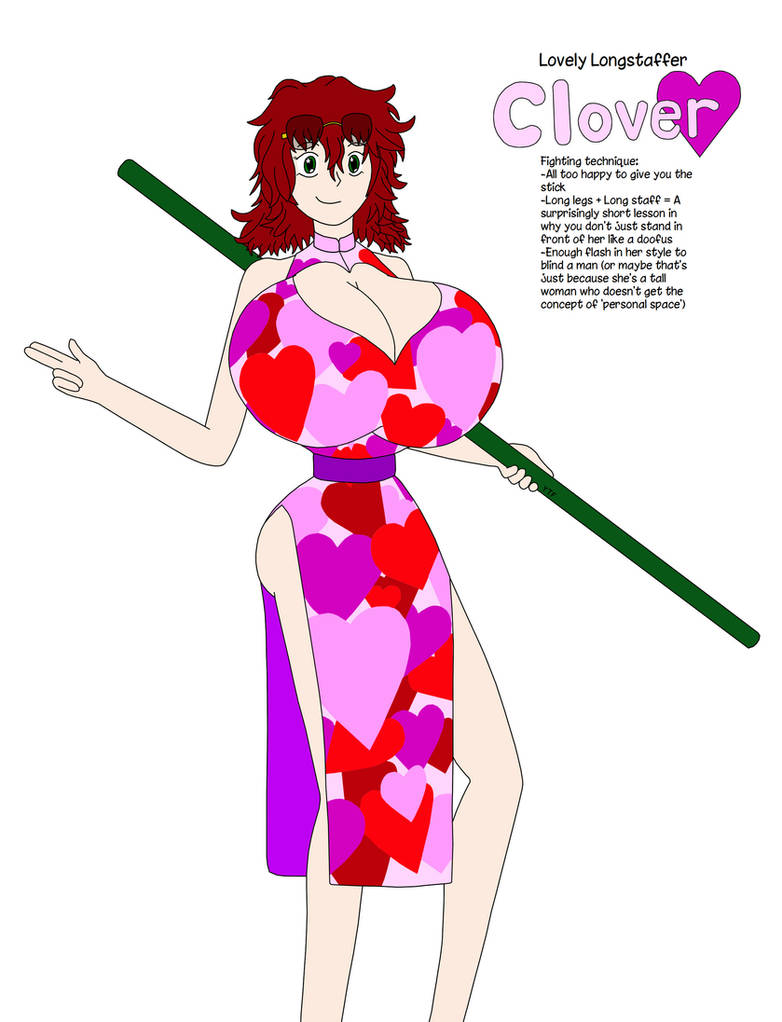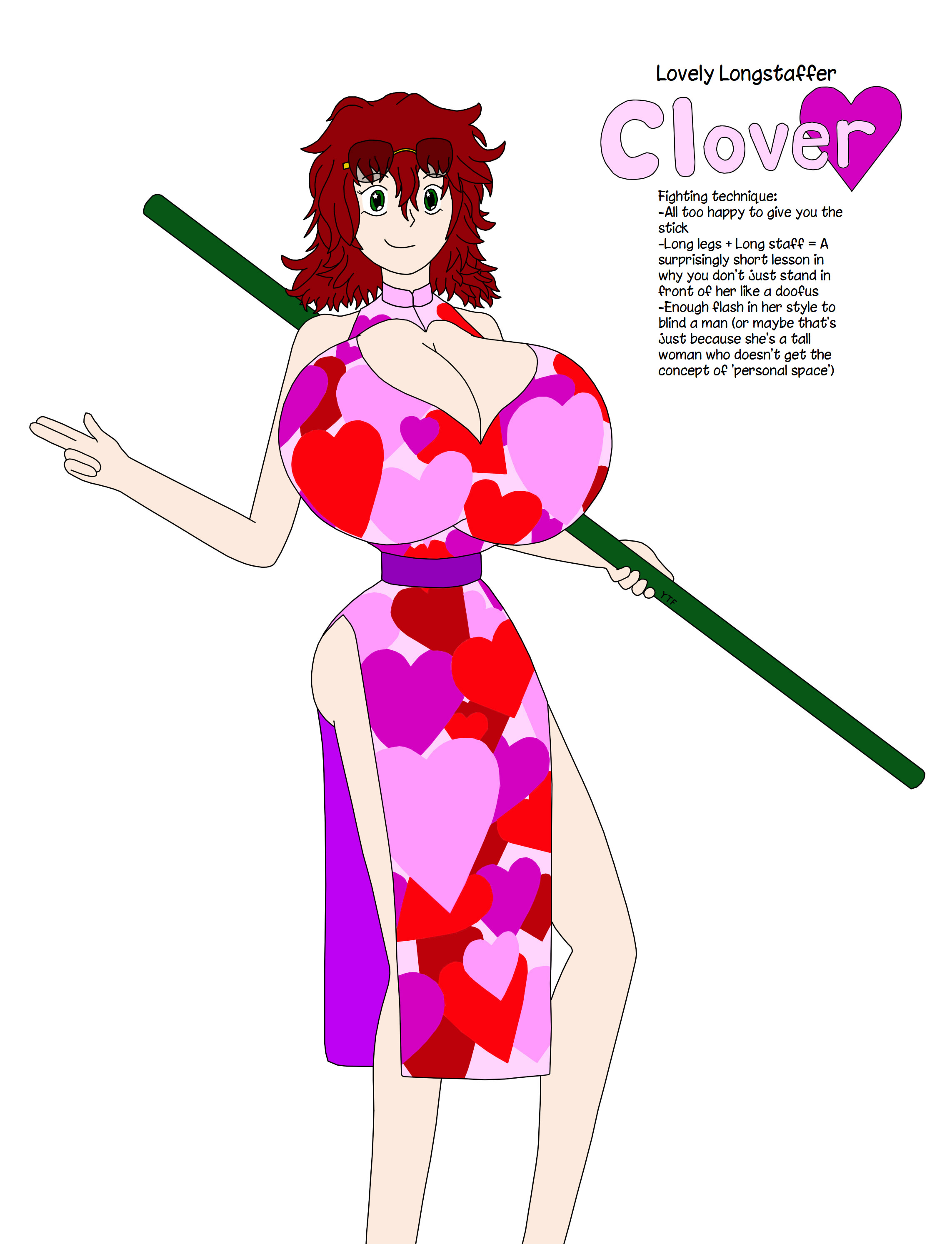 Watch
(Go look at some palette-swaps at
sta.sh/218gudk9rk4b?edit=1
. Why do I keep thinking that giving women these wild patterns is a good idea? I gave Female Elliot that G.T.R shirt. Why don't I just keep doing
that
? :3)
Or: "Look, I've Already Made The GI Joe PSA Jokes To Six People".
Like an increasing number of my mooks, Mook Clover and Off-The-Mooky-Clock Clover are very different from each other for reasons that I'm sure make sense to me. (Perhaps they literally DO! >:3) So, first things first!
Clover Maitland is a ditzy woman with a penchant for style and what may or may not be willful ignorance regarding the concept of personal space, and she just can't keep her hands to herself. She can't help it! She is friendly, likes to meet new people, and so much out there is in need of hugs. Surely the fact that she's 6'2" can't lead to anything awkward, right? (She constantly boobs people in the face when she gets her arms around them. It gets awkward often.)
Still, maybe she's not that ditzy - it's just that if something doesn't seem useful to her or isn't of interest to her, then she isn't studying it at all. How else can you explain how she's good at math, calligraphy, bonsai, speaking Chinese, and staff fighting despite having had fairly questionable report cards otherwise a decade ago?
Just remember. So much out there is in need of hugs. And oh, is she good at hugs. Better hope your dodging game is on point if you're not in need of hugs!
Oh wait, she's also supposed to be a mook despite her personality not making sense for it. Well, Y.T.F. abides! :U
CLOVER
She sticks out in a crowd and her stick's out for you. She's a tall woman who has some serious range with her custom-made staff, and you'd better believe that she'll use it and her long legs to the fullest extent. Don't stand in front of her for too long or there's only going to be one smile in the room.
Fighting style:

--Clover outranges you, with or without her staff, and will use it to her advantage. She doesn't attack quickly and her attacks can be sidestepped without much trouble, but if you're not paying attention, she can hit you from very long distances where you won't be able to do anything about it. Wait for her to whiff an attack, or try to rush in from the sides.
Attacks:


A) From moderate to long range, Clover will rear back, then take a lunging step forward while thrusting her staff out, briefly stunning you if it hits. It does moderate damage. She has to draw her staff back afterwards, giving you time to counter if it didn't hit.

B) From long range, Clover will spin around toward you, and thrust out her staff at the end of her spin to hit you with the back of it, dealing high damage and knocking you over if it hits. She'll spin back into her normal stance regardless of whether she connects (counter if she misses), and this has slightly more Y-axis tolerance than most of her attacks.

C) From long to very long range, Clover will emit a short kiai, suddenly take two steps forward, and plant her staff into the ground, launching a pole-vaulting kick that will knock you off your feet for high damage. She'll land on her feet but has to spin back into her typical stance before she can continue moving normally, again, giving you time to counter if it didn't hit.

D) At point-blank range, if you stand still for too long, Clover will reach out and grab you, forcing your head to her chest and holding you a little too close and more than a little too tight. This will very slowly drain your health, but you're completely stunned while this happens, leaving you open to attack elsewhere. Put in the button prompts on the screen to shake loose and push her away. She will not let you go otherwise, unless someone else performs a knockdown attack that hits you. Clover typically won't do this unless you're both close to her and obviously distracted by other enemies, and she can only do this if she's behind you - but she WILL circle around you to do this.
E) A higher-level Clover can perform a combo with her staff at short range - she'll suddenly dart backward from your location, thrust her staff out, and proceed to spin around twice, performing a low spinning strike, then a high spinning strike, finishing by hopping into the air and performing a spinning back-kick that knocks you across the room. Low damage, moderate damage, high damage, moderate damage + knockdown, in that order. Stay away from her until she concludes the combo; she's wide open afterward.


"Primrose" is the most dangerous of the bunch. She has significantly more health than the others, and is quicker to react to your location when choosing when to attack.


Palette-swaps:
-Lily
-Daisy
-Iris
-Camellia
-Hyacinth
-Primrose
Clover Maitland and swaps belong to

. They actually have different cheongsam patterns and hair styles when not doing mook things, but six hours after trying to get this ONE to work out, I think I'll leave that to commission artists. '>3>

well she doesn't seem too bad, just beware the staff!
Reply

Indeed. Make sure you haven't seen any final bosses around anywhere; you'll be fine if not.
Reply

There's nothing I love more than a tall girl.

Reply

Perhaps one day I'll get a commission that actually makes the tallness clear! :U
Reply

...
I love her

Very nice design! Love her stuff... and her hugs

Reply

Who knows? Perhaps one day you'll get to see one of the hugs :3
Thanks, though - good to know that the nightmare of that heart pattern wasn't for nothing =3

Reply

Oh, I wish to get one of those hugs *w*
And yeah, I can see that pattern was hell to make

Nice one

Reply

I don't think I'll be able to dodge those hugs! o///o;
Reply