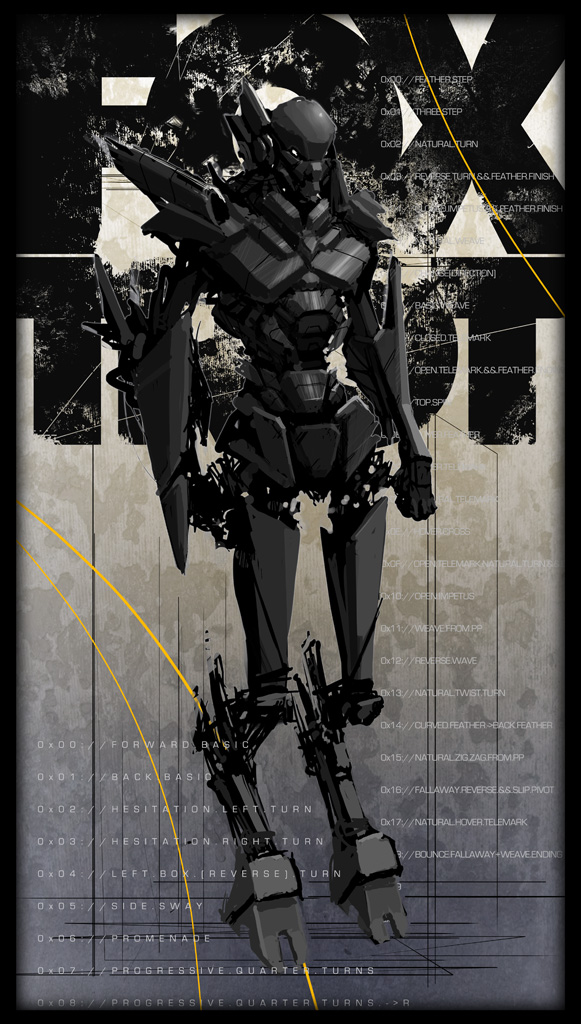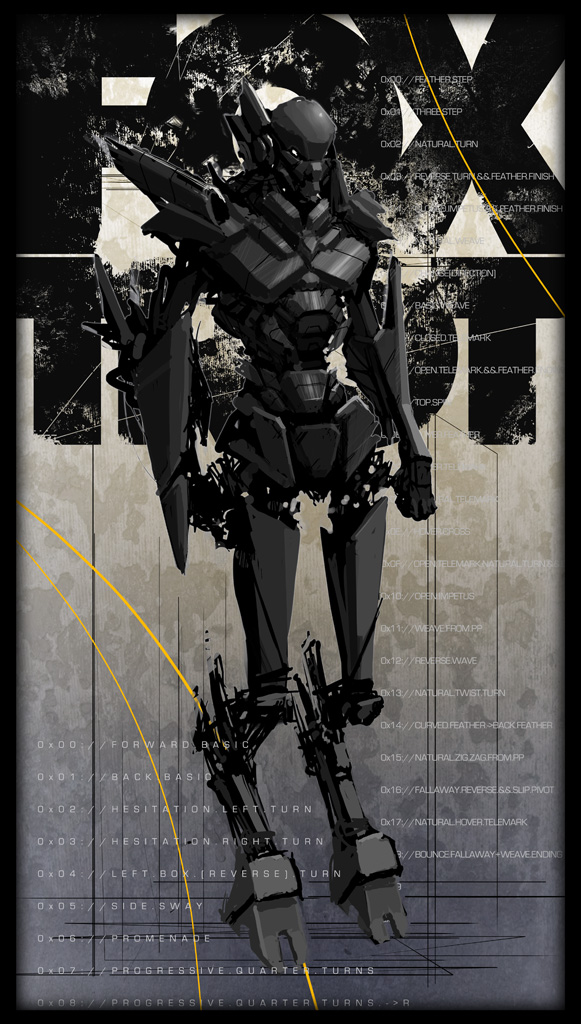 Watch
Behold foxtrot! this agile and nimble mech was constructed more for long range combat, equiped with its crazy eye scope and shoulder canon, foxtrot can hit any target it chooses with its hawk eye accuracy, once it has enabled its enemy from afar, it moves in quickly for the kill!
let the mech battle begin! so after seeing my buddy darkfong's work
[link]
it inspired me to do one of my own in a similar style. I also sent it again to Crazyspork to add some cool text for me, so technechly this is a colab(one day ill tackle typography......but not now). So i thought it would be sweet to have a mech art battle with all the peeps, heres the fun little rules:
-has to have some kind of dance name (waltz, six step, up rock, fox trot etc.
-list some kind of stats about your mech.
-try not to spend to much time on it.....just let that wacom go!


this looks kick-ass, well done, i wish i had the talent to draw machines...
Reply

mmmmm Justin has started something. Cant wait to get started!
Gettin wicked with those shapes man! Font work works well with the mech too, good stuff CSpork!
Reply

awsome cant wait to see what u guys will dish out! Maybe we ll make a poster out of everyones jylz!
Reply

ooh Battle time! that is one nice mech...and the type is genius crazyspork.
Reply

i'll def. post something. never done mechs before, seems like a great game. gotta finsh the other sketch challenge tho. .
Reply

hehe yay! finally showed up! hahah, i couldn't help but imagine how this mech would be doing the different basic steps while i was working on this, made for some silly giggles. especially if it was all dressed up in a tux or something, mwahahaha.

but yus yus, cool concept! thanks for letting me work with you, it's always fun! josh and i were doing a bit of brainstorming for some ideas for our mech but we didn't come up with one, boo.
Reply

bah!! you can do it! it would be awsome.....the trick is to not think about it, all i did was do a silhouete and blocked in some shapes and walla, instant mech so yes.....dont give up!
.....and i think it would look pretty sexy in a tux

Reply

basic shapes my ARROW. looks more complicated than i can imagine. iono how u guys do this mech stuff!
Reply

cool designs, nice shapes. Wasnt Fox Trot the name of a mech in the game MechAssault?
Reply

thanks.......and i have no clue, all i know is that its a dance move a couple of freinds of mine were learning, so i just went for it..
Reply

Reply