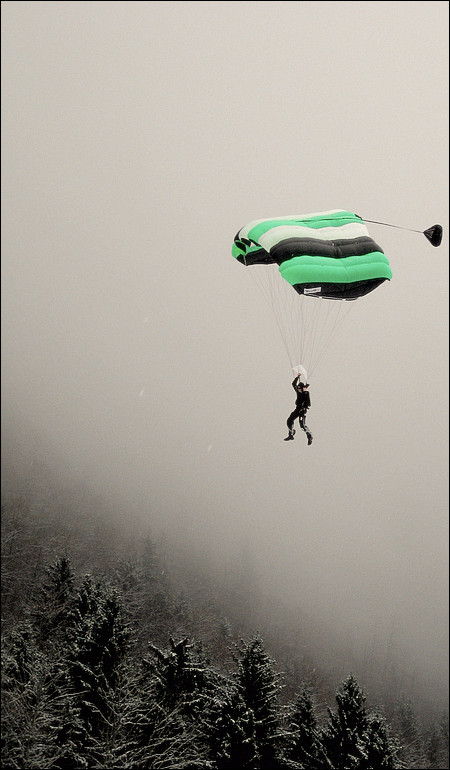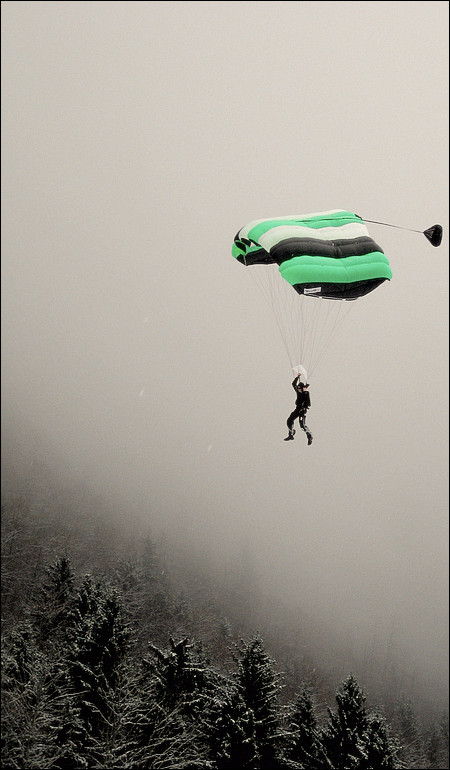 Watch
Location: Lauterbrunnen Valley, Bernese Oberland, Switzerland
_______
So there I was, trudging through the snow in a field in the valley with my camera. Up on the cliffs were lots of icicles, which when they fell, made a thunderous noise.
I heard a particularly loud icicle and looked up and to my surprise there was a man thundering towards the earth, head first!!
This, my friends, is what is known as B.A.S.E Jumping!
Eventually he opened his parachute; to my great relief! (I didn't have to explain to the rescue services, in my rusty Dutch language, as to why there were body parts strewn across the valley floor of Lauterbrunnen!)
Anyway, I got some decent pictures and there were about 4 other guys who did the same so I saw the whole jump from the cliff tops

(and you know how massive the cliffs were from my previous pictures)
I talked to them afterwards, which was neat

Hope you like.

Wow, I went to that area a couple of years ago and watched them doing that. It's an amazing shot, I like the snow-covered trees at the bottom of the photo as well.

Reply

It's the most stunning place I've been.
It was so cool to just accidentally stumble upon these jumpers you know, rather than to go out specifically to see them.
Thanks

Reply

Way cool! There\'s nothing like a crazy BASE jumper!

Reply

Wow I was browsing your gallery and I really adore this picture. It's great

Reply

Reply