EDIT: Okay! So I got some more points and figured, why not spend them on this contest!
First place is now 800 points!
Second place is 200 points!
You may have three entries but only one may place!

Okay it's been a while since I've done a contest.

Bear with me, okay?
There will be ONE WINNER. The winner will receive 500 points! (EDIT: The prizes have been changed. There will now be a SECOND PLACE WINNER, who will recieve 200 points!) (EDIT EDIT: THE PRIZES HAVE BEEN CHANGED AGAIN! The first place will win 800 points, second place 200 points!)
So what am I asking you to draw here?
INK! In her monster form (This is a fullbody, btw, her arms are just longer than her body. Also she DOES have eyes, they are blue) :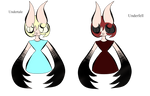 or her ghost form: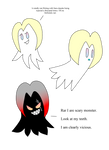 that's entirely up to you (IT MUST BE HER UNDERFELL FORM, HOWEVER)! BUT, and this is IMPORTANT:
I WANT YOU TO DRAW HER WITH UNDERFELL SANS.
I want to see them interacting, however you wish to show them doing so. (I will give details on her personality/their relationship in a minute!)
Whichever idea I like best will win, so while art skill
is
a factor, it is not the ONLY factor.

Anyone can participate and please have fun!
Now for the fun part: RULES!

You are allowed
three
entries, but only ONE can win/place. They
can
be mature content. I have no problem with gore. (In fact, I quite like pictures with gore in them, so feel free to add as much blood and guts as you want!) I will not, however, allow NSFW sexual content. Suggestive stuff is fine, but I would appreciate it if you didn't over-sexualize my character.

If you wish to enter, just leave a link with your contest entry in the comment section below! DO NOT RELY ON MENTIONS because my mention system doesn't always work. Or, if you prefer, note me with the link to the entry!
All entries must be uploaded on DA, not just in Sta.sh.
You can do animations, pixel art, whatever you want!

All contest entries will be in a favorites folder that I will create for this sole purpose.
If you are a friend of mine, I will NOT show favoritism.
Bases ARE allowed but only if they're free or bases that you've paid for. Please no stealing other people's art. And whether or not you use a base MAY factor in to whether or not your entry wins/places. (If you can find a base that fits either Underfell Sans or Ink.

)
I WILL BE THE SOLE JUDGE. PLEASE DO NOT ARGUE WITH MY DECISION.

THIS CONTEST WILL END IN THREE WEEKS ON AUGUST 1st, 2018 !

ALL RIGHT SO! A little information on the character:
Ink is my persona; so she is basically me (and I really don't want to hear the whole 'self-insert, Mary Sue thing, YES Ink is a self-insert she is a
shameless
self-insert that is the whole
point).
This means she has author powers; can do pretty much anything she want, reality-bending-wise. Does she? No. That would be boring as heck. She tends to keep her powers hidden as it frequently freaks people out to realize that they are not real, but entities in a crazed fangirl's drawings/writings. So basically, she pretty much has no powers; because she never uses them, pretty much no matter what.
Unless, of course, someone pushes her too far. Unless someone hurts her friends.
Ink is a rather bubbly, chirpy character even in the Underfell universe. Basically, she's a teddy bear who doesn't want to hurt anyone or be hurt. She is CONSTANTLY flirting with Sans despite the fact that he has made it clear that he has NO INTEREST. She knows this by now and by this point it's almost become an inside joke between them; with her flirting and him playing up his rejections with heavy sarcasm and weary sighs. Despite the mismatched feelings, the two are actually rather good friends; or, as good friends as anyone in the Underfell Universe can be.
She also has severe depression and anxiety attacks. Sans occasionally tries to help out with those, but it can be difficult as everything in Underfell is waiting for any sign of weakness from
anybody.
And I think that about covers it!
SO! You can draw Sans and Ink interacting any way you like! (Except like a in-depth sex scene please no.) They can be fighting, having fun, it could be happy, sad, it could be pretty much anything!
Like I said, there will be ONE WINNER who will recieve 500 POINTS. If I get more points later I may add another winner but we shall see.

Again, I AM THE SOLE JUDGE. PLEASE DO NOT ARGUE WITH MY DECISION.
And please have fun!

EDIT: OKAY! I got some more points SO! There has been a change to the prizes:
First place: 500 points
Second place: 200 points
So more chances to win!
EDIT EDIT: Got even more points so! The new change to the prizes is:
First place: 800 points
Second place: 200 points
And that's all! Hope you all have fun!
Edit edit edit: Okay so I've gotten one entry since I started this, so I'm considering canceling the contest.

If I do, I apologize to everyone who was interested but PLEASE let me know if you're still interested. If so I might just extend the deadline if people are still interested.
MORE EDITS: OKAY! So apparently people are still interested, hopefully I'll get a few more entries, but I'm going to be extending this contest!
The new deadline is:
August 8, 2018
Final edit: this is now closed. Winners will be announced later today or tomorrow!!