--> For each of the first 20 people to comment on this journal, I will feature one of their characters. I'll also tell you what I like about them. (don't link me to one, I'll go and snoop and find one I like <3
--> If you comment, please do the same in your journal, putting the tagger on in the first slot. The idea of this is not to get a free feature, it is to spread art around for everyone!
____________________________
  Я помещу в своём журнале рисунки с персонажами 20-и первых прокомментировавших этот журнал. Также я скажу вам, что мне в них больше всего нравится. (не нужно давать мне ссылку, я самостоятельно найду их в галерее и выберу одного <3)
  Если вы прокомментировали, то пожалуйста, создайте такую же запись в своём журнале, поместив тагнувшего в первый слот. Ссылку на журнал приложите к комментарию.
__________________________
Well, I don't think that there will be at least 5 taggers.
Правда, я сомневаюсь, что дойдет хотя бы до пяти прокомментировавших

Похоже, придется писать сразу на обоих языках, но норм
1.

It's predictable but
Doug
. Dark!Doug.
Это предсказуемо, но
Даг
. Dark!Даг.
To be not banal, can I choose another one?
DIDIERY.
И чтобы не быть банальным, могу я выбрать еще одного?
ДИДИЕРИ.
или ДидЬери?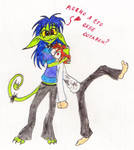 She is cool, unusual, awesome snd strange

But I don't know a thing 'bout her. DOESN'T MATTER. She loves my Crash and she has the blue hair, it's enough.
Она классная, необычная, очешуенная и странная

Но я ничего не знаю о ней. ПОФИГ. Она любит Крэша и у нее синие волосы, и этого достаточно.