Deviant ID made by

What's up weird people from a weird fandom. I'm 22 yrs old currently going into the Art Institute of California, which was my goal school to go to, and I'm so happy to have made it into it, it's been my dream school to go since I was a teen. After I graduate, my goal is to work for animation companies, it'll be difficult, but not impossible. I'll do my best, for now, I'll enjoy drawing for fun ponies and maybe other stuff.
I'm also in the National Guard, every month I'm gone to drill training and pretty much do military training like shoot M-4s, but mostly get up at 2:00am to cook for over 600 soldiers. We only get 3 hours of sleep which is a pain in the butt, but hey, as long as I get the benefits, extra money, and they pay for my school, I'm a happy camper.
Right now my list is full, but soon I'll post prices for drawings which will move higher on my list. Is you watch me, I really do appreciate it very much. I promise you better art soon, for now, you're all gonna have to deal with my Nintendo 3DS Colors art.
Thank you for looking around and have a nice day.
(っ◕‿◕)っ ♥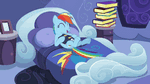 Drawing Weapon of choice:




:
colorslive.com/author?id=89441

:
yoshi-ringo.tumblr.com