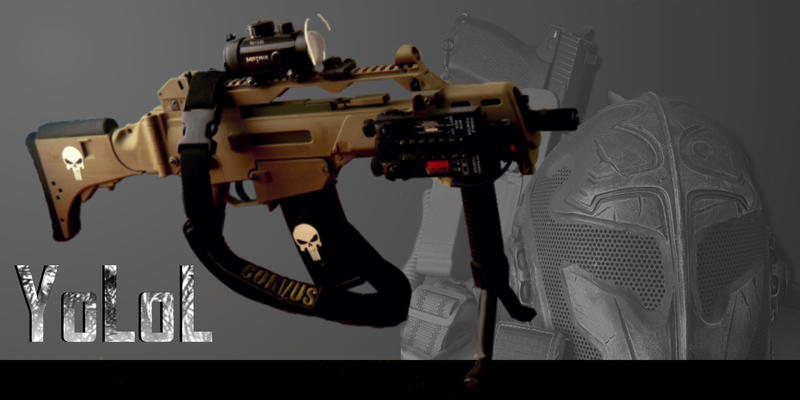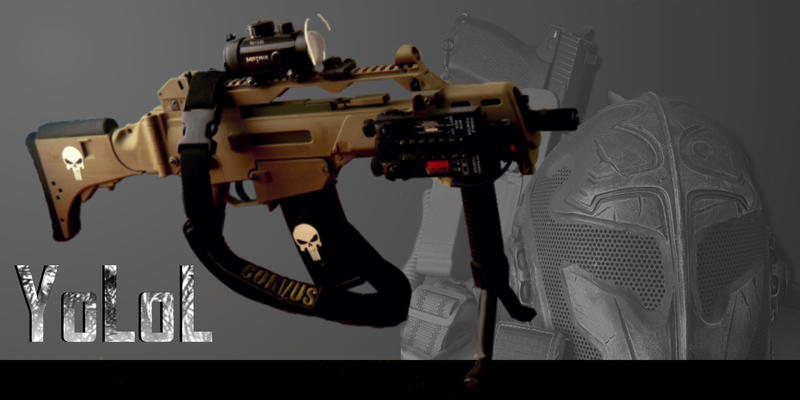 I have been meaning to shoot some new pics of my gear for almost a year now. Finally I did and let me some time to play with them

From left to right: Umarex G36, an excelent AEG, fitted with red dot, external battery in a fake PEG case, black metal flash hider, vertical bipod/grip, next is my Umarex USP (notice a trend there?

) with my SERPA Holster and a safe leash in case (God forbid =S) I drop it during a match and last but not least, fresh from Asia, my Templar full face mask

Also, this is my new signature on ETAG's Forum (
[link]

How does your Umarex stuff hold up? I've got the Umarex CO2 USP, and it's decent, but, that G36, is that the fancy 200 dollar model?
Reply

both perform pretty well. The G36 is the Electric Blowback (EBB) version; Last Sunday I chroned the G36 and it's around 360 FPS with .25 g so very near 400 FPS with .20
Needless to say it has an excellent range. The only drawback is the space inside the handguard. I opted for an external battery. It is encased in the fake PEQ. It is a 9.2 v NiMH battery and you can get about three hours of continous playing with it.
I'm quite sure I could get more playtime with a LiPO battery but I don't want to just yet

Regarding the EBB, I decided to disable it as it requires more energy. Maybe when I finally gather enough $trenght

to go all LiPO I will re enable it

Anyway, if you are considering getting this replica, it is definitely a good option.
Reply

it seems like you have placed the an-peq upside down
Reply

Reply

i have the same peq/battery case for the dboys kac pdw and is marked by the instructions, the two caps would be those of protection for the lens of the laser and the lamp for the ir viewer; nobody forces you to turn in that verse, however, only those who want realism could make you troubles, mainly in airsoft the problem is that you have the cables in a uncovered position and in case of burst on the rifle the could be easily damaged.
Reply