So someone asked me how I got Xsplit to work with Picarto, and that reminded me of the very tough time I had trying to find the answer to my own questions about how to get the two to work together. SO! In light of that, here's a handy-dandy short guide for streamers.
First of all, some background. For those who don't know, Xsplit Broadcaster is exclusively a PC program that will allow you to stream multiple kinds of media (screen capture, video, webcam, skype video, games, etc etc) to a broadcasting site of your choice. It's high definition (at the least it will stream 1280x720 HDTV 16:9 for free users and 1920x1080 HDTV 16:9 for subscription users) and generally, I've found, a useful tool that doesn't require you to do too much to get everything set up for streams every time you start one. It's a great tool, it's free and you should check it out if you want to find out more infromation.
Picarto, for those who don't know, is a .tv website geared exclusively toward artwork (generally more on the anime side, but there's no reason to not use it for other art). Other than the occasional hiccup, it's a great streaming tool that doesn't lag as much for the watchers with the slower internet when they come to watch the stream and unlike most broadcasting browsers I've used to host streams, they don't require you to jump through hoops (aka strongarm you into using their software) to control and mod the chat while you work so you don't have to have mutliple broadcasters active while you stream (regardless of whether you're actually using those broadcasters). Right now it's in Beta, so I would suspect there are more changes to come and I would expect there to be a small issue every now and then. But even in Beta I greatly prefer it over Livestream or Ustream or anything else I've used.
So. The real reason you're here. This is actually really simple, just make sure you have both your Picarto Dashboard and Xsplit open.
On Xsplit, go to the menu
Broadcast
OUTPUTS
>
Add Channel
>
Custom RTMP
You will generally do this anytime you want to stream using a site not listed in Xsplit's broadcasting templates (thus far they have profile templates for Livestream, Justin, FC2 Live, Nico Nico Live, Popler, twitch, Youtube Live, GoodGame, Akamai Networks, CyberGame, Dailymotion, hitbox, limelight networks, local streaming (meaning recording straight to your computer without broadcasting), Meridix Sports Network, Sina, and Ustream. So really, there's lots to choose from if you broadcast elsewhere. Also be aware that some of these, like local streaming, are not available without subscription.
Anywho, after you select "Custom RTMP"
a new window will open up
. The name and description are important only as far as you need to identify it, so you can name it whatever your little heart desires. It's the next two that are the important bits
Now go to Picarto.tv and
go to your Dashboard
.
Since Picarto updated their site and UI, you can now find this information by clicking your little picture and going to "Set Up" and then the Livestream tab.
Looks like they updated again. This information is found by clicking your icon in the upper right corner, selecting "Configuration" and then going to the "Stream Setup" tab.
It should look something like this: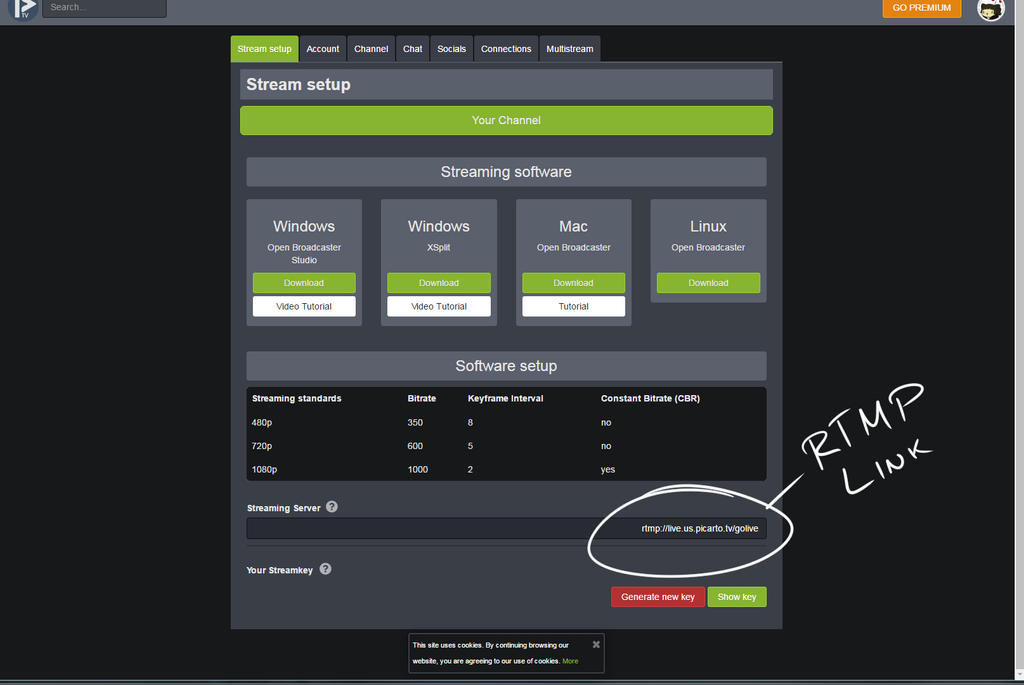 RTMP URL
: [under "Streaming Server" there will be an rtmp link. Put that here]
Stream Name
: [Where it says "Stream Key", copy and paste that whole thing and put it here]
After that, it's just whatever you want to set your stream details as. You can also click the "Test Bandwidth" button to see if it works. About a couple weeks or a month ago, the rtmp link for Picarto was changed so streaming directly from Xsplit stopped working for a bit until I realized I needed to update the link.
So if something goes wrong, it's most likely something that was changed on Picarto's end because it's still in Beta. The way I found out something was wrong was that all the watchers in the chat could hear the stream, but no video was coming in. So it's important to keep in mind that if only one person has a problem with the stream, it's probably on their end, but if they all have the same problem, it might be time to test the bandwidth again and make sure the links and keys are up to date. The first go-to solution if a viewer can't see the stream is to ask them the refresh and see if that solves it (it more often than not does). If you have to restart the stream it's more than likely that most people in the stream will need to refresh the page (again, Picarto is still in Beta, it's an issue, but it's relatively small compared to the problems I had with Livestream).
That's it. Hope it helps!