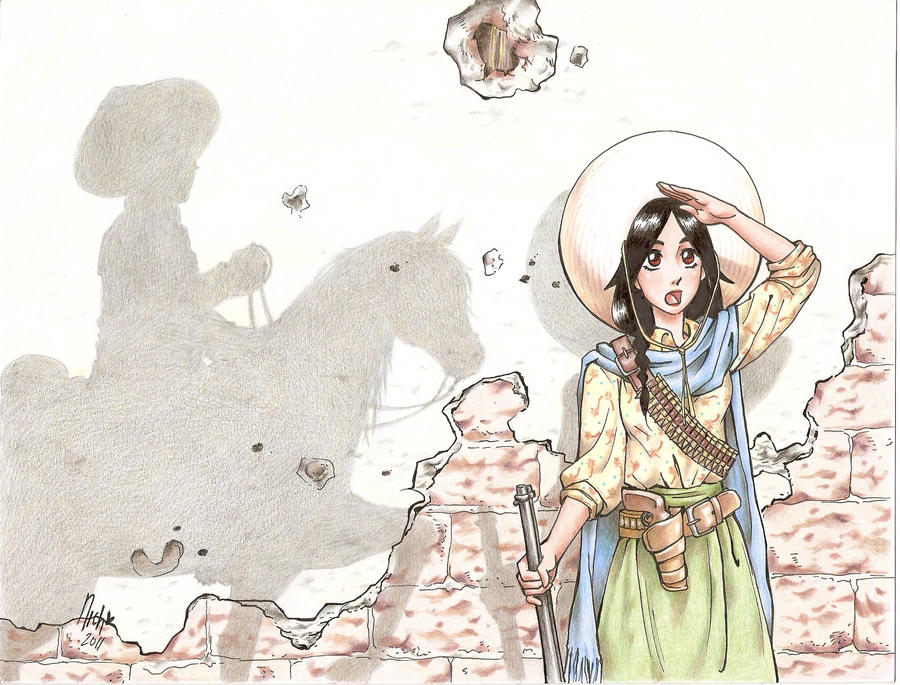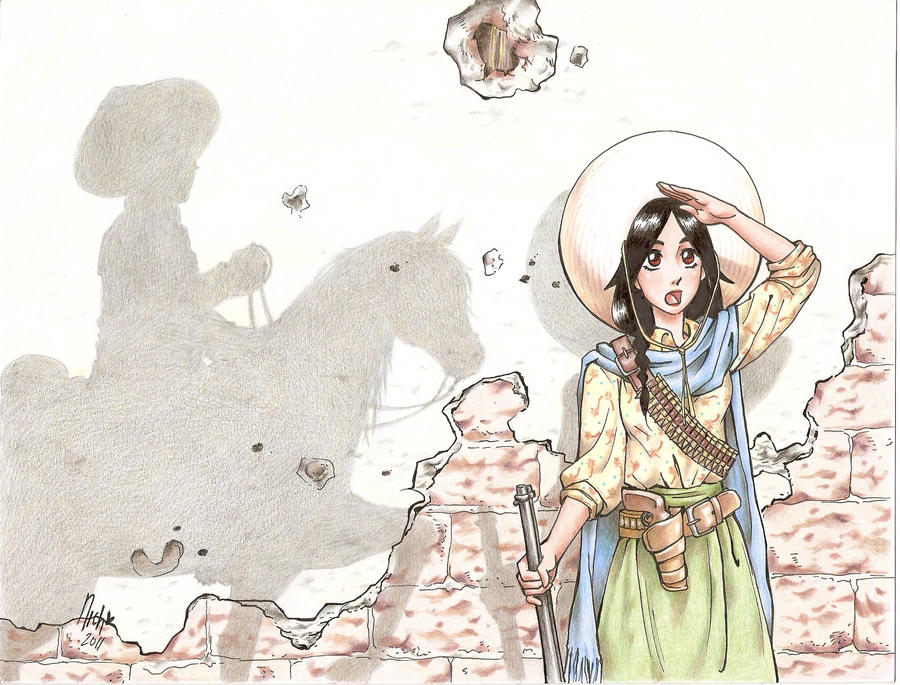 Watch
Well I made this for the ilustration contest of

is all about the mexican revolution
the soildier women are iconic figures in this part of our history, they carry with the weapons and the sons of the
men that fight for a cause: the right of oun the land they agr on
and of course one of the main characters an a legend
Pancho Villa, that is only represented on siluet
technique: solor pencil, white and black ink

Love the detail in the background. I like the color. Beautiful work my friend
Reply

Reply

Very nice Adelita picture there. Love teh details and the folds...and the "iconic" silhouette....the general she is saluting....Villa.
Reply

villa no se pk rayos crei ke era zapata x'DDD!!!!!!!!!

esta bien chido la adelita se ve linda *-*
Reply

sq esta re chamaca la pobre, pero bien calzonuda jajaja, cuando la estaba haciendo hasta me imagine toda una historia de su aventura como soldadera.
Reply

haahaha antes a los 15 tenian mas valor D: (por no decir egg's ) ke uno ahora xDDD y asi sucede cuando uno anda dibujando algo nuevo :3
Reply

es que todas eramos viejas por eso puras adelitas.... xD ok no... bueno si xD porque somos muchas

me encanto tu pieza >-< dibujas precioso :3 y adoro como lo haces en tradicional... donde esta e-e el pulgar arriba como en face cuando se necesita?! D<
Reply

orale que padre! creo que es el único que he visto en "Traditional Art"
te quedó muy chida la textura de la sombra y todo el coloreado también!!
felicidades y mucha suerte!!

Reply

pero como que en vez de ser "revolución ilustrada" va allamarse "la adelita ilustrada", x que como han puesto adelitas, que nos leimos todos la mente?
si qerían unidad ps ahí sta jajaja
Reply

jajajaja de hecho! tienes mucha razón!! he visto muchas adelitas, al menos las que han publicado, sabrá de los trabajos que no se han dejado ver

Reply

Reply