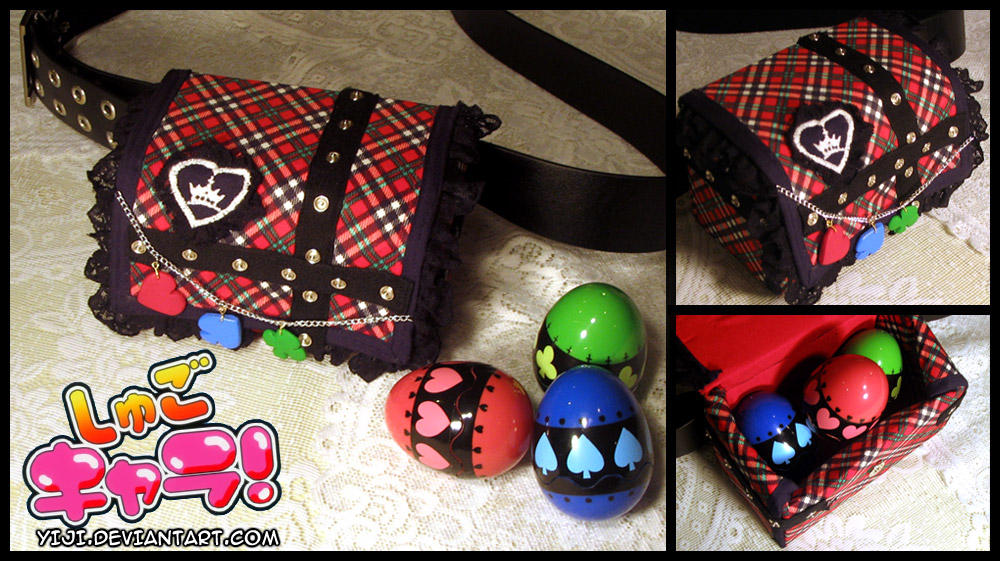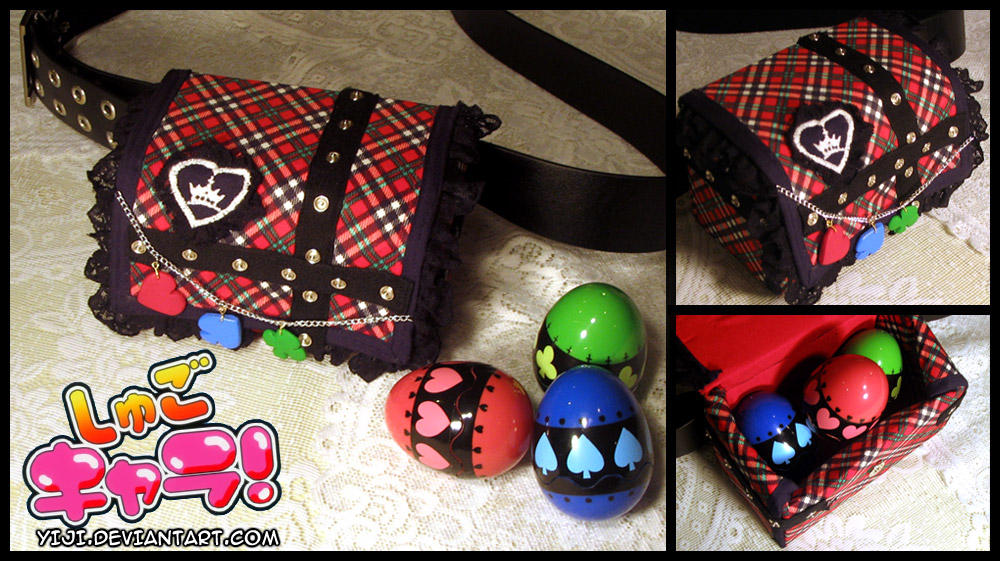 Watch
Yay! Yay! I'm still not dead! XD
Manifest 2009 has come and gone and I surviiiived. But just barely. Oh well.
This is part of my Friday costume that I wore to the con! I was so happy with it that it deserves its own deviation, woo!
My best friend

and I did a Shugo Chara cosplay. FINALLY, I was able to cosplay with her! Took so friggin' loooong =A= Anyway, she did Ikuto and I did Amu in our school uniforms. We didn't get a chance to do a photoshoot, but we will in the future, so please look forward to that!
This pouch is made primarily of strong cardboard, which I drafted a box pattern from and built up on. The fabric lining inside is the same one that I used for my tie and armband, so it would tie in altogether. The outside material is the same one I used on my skirt and leg stockings, and it was all sew together before the box was crafted.
The black edging and the lace were sewn on by machine before the pouch was assembled, as was the stripe of material with the studs. The little black heart was made by hand, and the white crown was embroidered on using my crappy old sewing machine. Yes, I have no embroidery machine, so I did it using normal stitches. Yes, I AM crazy, thank you for pointing that out.
The small chain was added on the front after the pouch went together, and the charms are made of FIMO clay that I painted once they were baked to get a nice, even finish. The rear of the pouch has two leather belt loops to attach it to my belt, which I made by hand and studded myself, too. The entire thing was made over a couple of days, but I was being pretty pedantic about it. In the end, the pouch has a stronger, reinforced bottom, and closes with a magnetic clasp under the top panel which I attached before the material went on it to give a nice, clean finish.
The eggs weren't made by me, I bought them online because my own ones weren't finished on time. But everything else was done bit by bit, so I'm ultra-proud of how this came out! Also, it was a nifty place to put my wallet and mobile phone in during the con, rather than having to lug a bag around.
Someone thought I was in the FRUITS competition, and now I kind of regret not entering... Oh well. xD'
Shugo Chara © ピーチ・ピット
Acessory © Yiji 2009