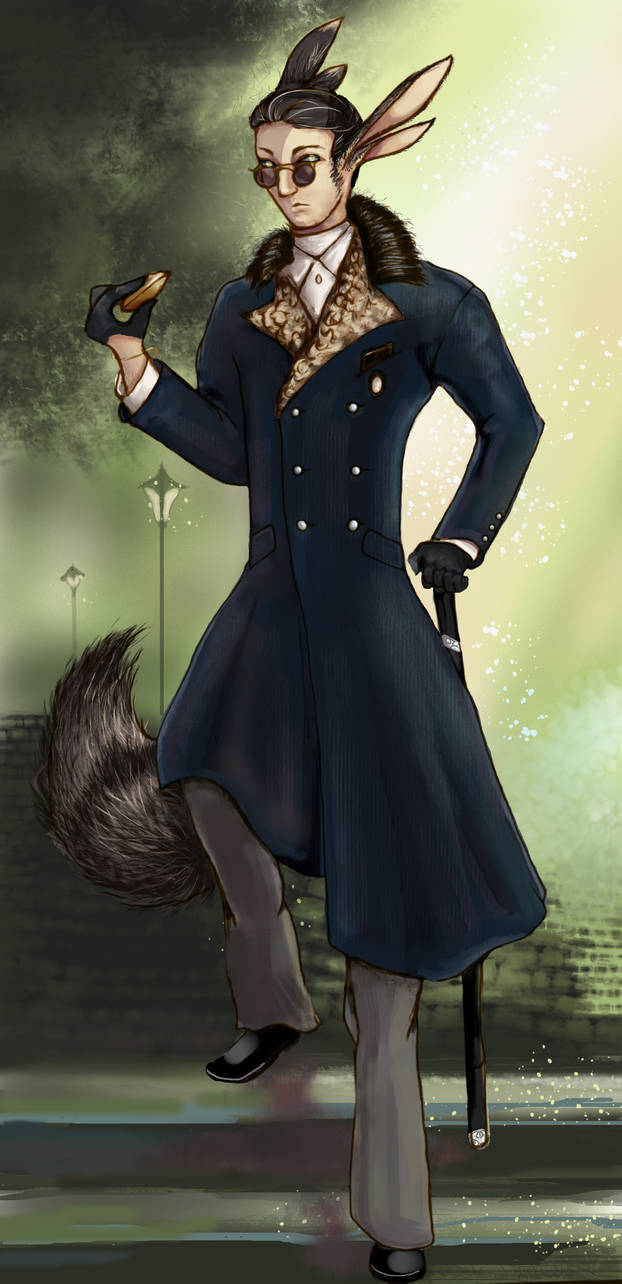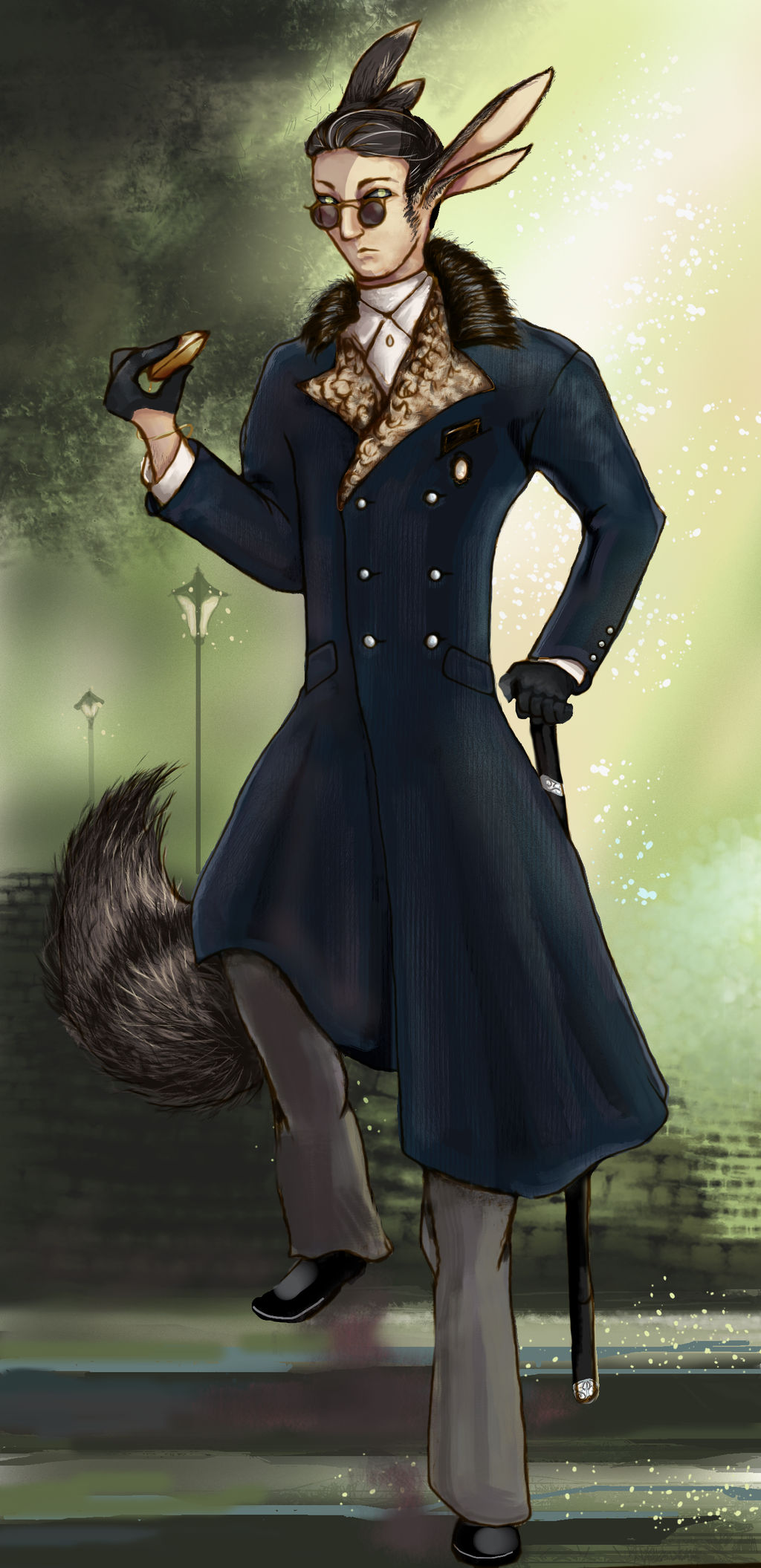 Watch
And so a new OC saunters out from the fog...
Traditional line art edited in Gimp 2.8. Digital painting and finish done in
Krita 2.8
. After painting with Krita, I think I've been converted. There's just so many more options and while this was more or less a 'test out all the brushes' piece for me... there were numerous features I haven't even tried yet.
Expect more digital art soon for


I still think this is absolutely amazing! Just wanted to say it again ♥ ♥
Reply

lol, thanks again for the shower of love and comments.

I've been working through trying to color all my ref sheets, so their shinier and also as an excuse to force myself to look into digital more. Granted eventually I'll have to figure out the beast that is line art.

Even if I don't stick with it... I think it would be at least good for developing some kind of draftmanship digitally so I can be more independent of translating things from pencil to digital and just hop on and draw.

This has definitely been a step in the right direction, I feel. Although there's still so much more to explore in this medium.

Reply

Whoa, look at that!! It's like a sudden super duper big jump in your skill

You've improved sooo much since last I saw you do a digital drawing!
The background looks really splendid and atmospheric, really adds to the mysteriousness of the character. The character himself looks quite intriguing, I love his ears to say the least >w< , and he's definitely got style in his choice of wardrobe *v* Just everything about him is awesome <3
To be honest - I am really glad to see you trying out more of digital painting, since I think you are rather great at it already. Cannot wait to see what you'll bring in the future

Reply


Thank you!

It certainly feels that way. I think part of it is the same way with painting... I try one thing, then upon completing figure out what I like/don't like about what I did for one piece and in my next attempt I aim to not repeat the same mistakes again. With the last
digital painting
I did, I admit I was a little too amoured by the ability to make hyper fine details that I lost sight of the whole. This time around I went with broader strokes and more attention to the whole of the piece as opposed to zooming in and trying to make every little thread look like thread or something crazy like that.

Thanks again though. And we shall see. There will certainly be more of them than in the past, especially as I try to get some work done for

and

Reply

Yeah, if I try to focus too much on detail I find that when I finish the drawing, some details cannot even be noticed :\ I truly enjoyed seeing this piece

Also glad to hear that you'll do more digital art. I find it good for soul and mind to have at least some skill in multiple art mediums

Reply

My feelings exactly.

It's even worst when you put so much effort into them, that not only can they not be seen but the piece as a whole just doesn't feel right and you're left feeling agasgsdgsd.

I feel this way too, as I believe that every medium offers it's own insight into the creation of art.

Reply

Reply

I should probably put a link up there as well for anyone who's interested, but
Krita
is basically an open source digital painting program. It's available on Steam but the desktop version on the site is free. If you have the systems to run it and are looking for a new paint program to try out, I'd recommend checking it out. I used GIMP for digital painting and I was blown away by the features in this program (and I haven't even explored all of them yet).
Reply

I'll go give it a try too.

Reply

Good luck! And may your adventures with Krita prove fruitful.

Reply

Hopefully. I don't even feel like drawing lately...
Reply

It happens. Don't worry too much about not feeling the urge to draw or feeling you have to draw... ultimately it's up to you and what you make of it. Not to mention crocheting can be addicting...

or other times, life demands a lot more out of us than we can give. Either way, I hope you're doing well.

Reply

Woah this is stunning ! I'd say it's by far your best digital painting, seems that Krita really suits you too !
There are plenty of amazing effects I'd not even know how to do

this is amazing, especially for a first trial ! I love the fur on the collar, the fur on the tail, the particles of light, the lamps in the background, the slight texture of the coat... I'd say that the only thing that screams "custom brush" is the right part of the wall. Apart from that it all looks very natural and very integrated into the piece

Reply

The background was very quickly strung together since I was proud of the amount of detailing I ended up putting into it and shrinking it for the actual app, took that all away. Of course in my mind, I thought it would be pretty lame to just post a larger image on a plain background, so last minute I tossed together a background trying a few brushes that I hadn't already tried out on the subject and tried to make something atmospheric from them. I agree that the end of the wall definitely could use more fine tuning, but I think I will take more time in the future to make more thought out backgrounds.

Thank you. I do agree that this is probably the best thing in digital that I have produced thus far. I really do like Krita though it may take a while to figure everything out but fortunately this time, I have a stack of things to color/paint and I aim to get them colored digitally, so plenty of opportunities to practice.

Reply

Really cool, I see a bit of steampunky-fantasy in this character. I think the best part about this peice is the color balance for sure.
Reply

Reply

I love how you painted the fur on the tail, good job

Reply

Thank you~

I literally spent a week staring at various tutorials/pictures of fluff and doing practice swatches until I got the effect I wanted.
Reply

Wow, you made a great job looking at them then! I also look at tutorials, but I take a lot of time to get a nice result from them hahaha
Reply

Well, I tend to take tutorials more as 'guidelines' or ideas on how I can approach something as opposed to set in stone how I should do something, since there will never be a tutorial for everything you want to do ever, but a good tutorial, IMO, should show you a new technique that can shed some insight on how you work and what to do to get towards where you want to be. It definitely takes time but the majority of time seems to be spent on just trying to draw something out the way you want it to look, or close enough in many cases.

Reply