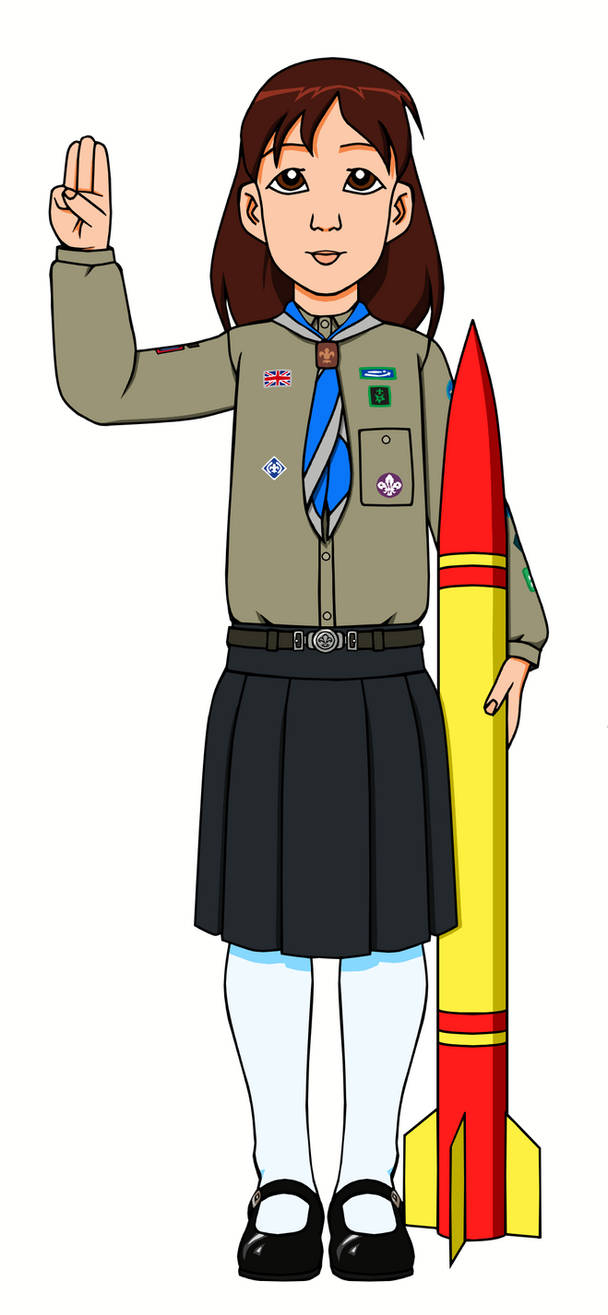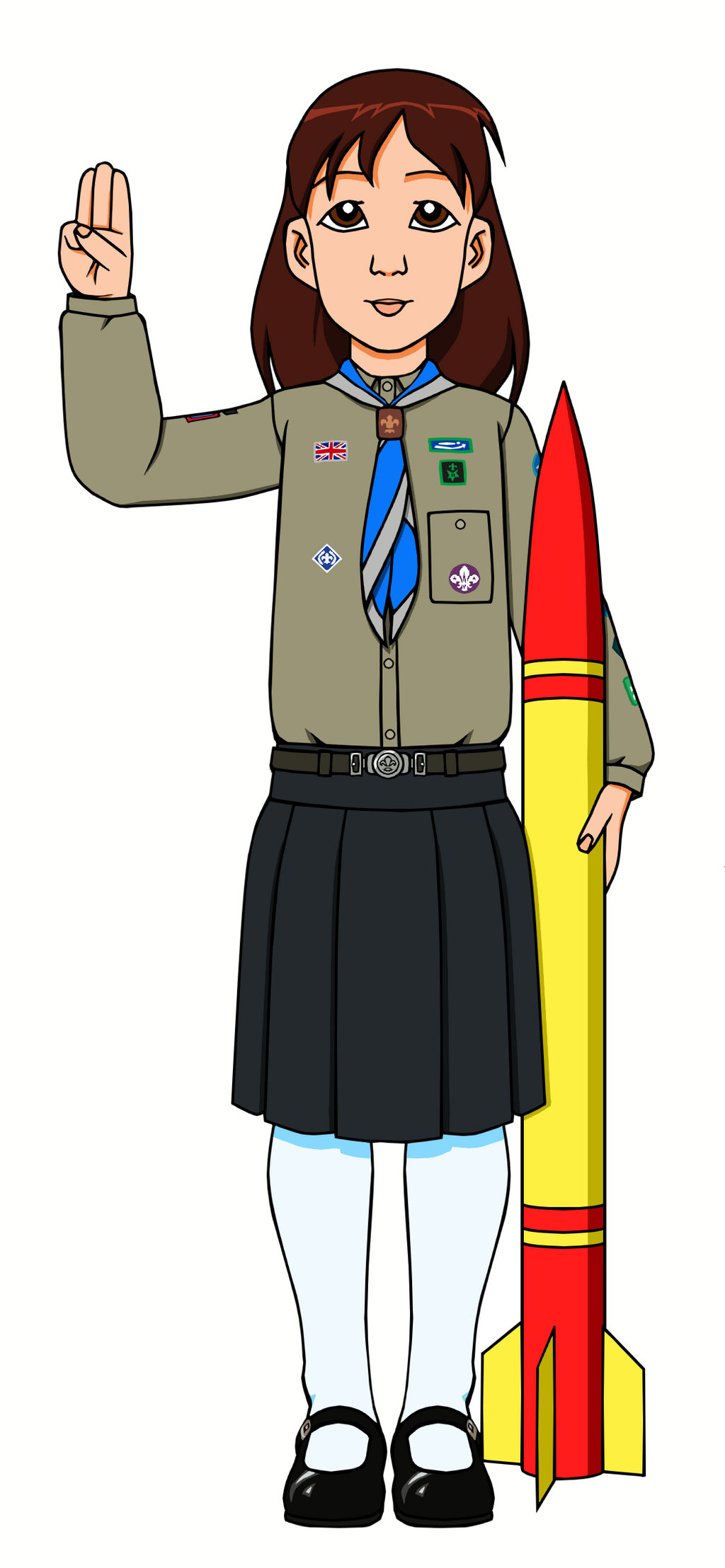 Watch
Based on an idea I had,
amiwakawaiidesu
made this lovely sketch for me of my "present-day" girl, Holly Mackenzie, as an Explorer Scout. You can fave her in his gallery
HERE
As Holly is a very intelligent, active, creative girl who loves the sciences and will one day go to Mars (
"When You Wish Upon A Mars"
), I thought it would be perfect for her to have grown up in Scouting. The Scout Association, the UK body of the Worldwide Organisation of the Scout Movement (WOSM) is open to everybody, regardless of background, ethnicity, religion, gender, or sexuality; it has been accepting girls into all youth sections since 1991 (the oldest youth section was accepting female members from 1976, and female leaders were allowed from the 1950s). The youngest section, Beaver Scouts (or just Beavers) are open to all from the age of 6, so as Holly was 6 in 1992, she would likely have joined her local group - the 3rd Silverbridge Scout Group (even small towns often have more than 1 Scout group) - at that time, and progressed through Beavers (6-8yo), Cubs (8-10½), Scouts (10½-14), and Explorers (14-18) in the Silverbridge Explorer Unit. Here, she is shown at the age of 17, coming towards the end of her time in the Explorers and looking forward to perhaps continuing on in the Scout Network (18-25) and/or becoming a Leader.
Holly is a particularly dedicated young lady, and puts a lot of work into succeeding in the Explorers, having earnt many badges and being well-respected by both the Explorer Leader and her peers. Of the badges visible on her uniform - which Amiwakawaiidesu and I discussed at length in the notes, to make sure the badges looked right, were positioned correctly, and reflected Holly's abilities (although many of the badges on her arm aren't very visible) - the Union flag by her right shoulder shows she has taken part in at least one organised international event as an Explorer; the year star by her left shoulder shows she has been a member in Scouting now for 11 years.
On her left arm, near the wrist, is just visible the side of the green rectangular First Aider badge, as Holly has gained the qualification to be a Certified First Responder (more than just basic first aid in the workplace, but not up to say the standard of a paramedic). As Holly takes up the role of medic on the Ares 1 mission to Mars, this was a really good fit for her. She also has a lot experience in leadership and teamwork, and in planning and carrying out expeditions, as evidenced by two other badges - just above the First Aider, there is the corner of a
Duke of Edinburgh's
Silver Award, and on her right breast is the
Chief Scout's Diamond Award
(the second highest award in Scouting in the UK).
(The highest award - Queen's Scout - I believe is roughly equivalent to the rank of Eagle Scout in the Boy Scouts of America. But at 17, it would be unlikely for Holly to hold that award, which one would imagine is usually gained later on in the Scout Network)
But why is she standing next to a 4ft tall rocket? Well this is part of Holly's attempt to earn her Astronautics badge (a badge which did exist for Explorers from 2001, when the section was created, but has now been removed; the younger Scouts can still earn it though), which involves as one of its requirements:
"Build, launch and recover a model rocket. Think about the shape of your rocket and why that's important. Make a second launch to achieve a specific objective, such as reaching a certain height or carrying a fragile payload, like an egg."
This is her model rocket. She's nicknamed it "Thunderbird 3". Well, it's not *completely* dissimilar... xD
===
Holly Mackenzie is my lovely girl Scout. Please don't borrow her without asking, it's not nice. :3

*think about the shape of your rocket*

we'll go for the stereotypical crayon shap
Reply

Are you sure that crayons aren't made in the stereotypical rocket-shape?

Reply

The rocket next to her makes for some good foreshadowing.
Reply

Isn't foreshadowing usually a bit more subtle than a great big model rocket?

Reply

True, there's certainly nothing subtle about that.

Considering Holly's interest in space travel, that topic would likely often be brought up quite a bit in her letters to/from Jet. After all, when she has a friend living in a time when otherworldly colonisation has become a reality (and who was even born on Mars), she would likely be very interested in hearing what its like. Perhaps this even played some part in encouraging Holly on her path towards her future as a spacefaring pioneer.

Reply

I would imagine that might not be the case - Holly would only bring up the subject in her letters of emails with Jet because she was already interested in space/astronomy, and so would already be interested in a career in that field. Any comment Jet made might increase that desire, but it wouldn't be the sole cause of it.
Also I would think that Jet might recognise Holly's name - after all, it's famously the name of the colony's first hospital in her era - and be careful not to give too much away. Spoilers.

Reply

I never meant to imply it was the "sole cause", but more just a little bit of inspiration. Clearly, Holly's interest in space exploration was already there and likely also the dream of one day becoming an astronaut. So not so much a case of Jet's comments leading to Holly's career, but more just a case of Jet's comments encouraging Holly's resolve (i.e. knowing future space colonisation will be pretty successful could make Holly even more confident her goals of getting involved in that stuff are a good idea).
Good point about Jet not wanting to give away the spoiler of Holly's Mars colony future. Makes sense she'd avoid saying something like "by the way, you're one of the first people on Mars", and would likely stick to just some basic "good luck with your goals" sort of stuff. Still, I wonder what Jet would have felt when she figured out early on that she was communicating with a major historical figure.

Reply

Cute skirt design and expression.
Reply

Thanks.

I know that Girl Scouts in the US have a uniform dress, but female Scouts in the UK go the lazier route and just wear their school uniform from the waist down to go with their Scout shirt.
Reply