41 Favourites
2 Comments
210 Views
Antique scenic souvenir view post card
Photochrome era; Circa 1960s
Photo Precision Ltd. / St. Ives, Huntindon
Colourmaster Int'l.
Piccadilly Gardens used to bloom; here's actual proof!

This is the location of the main transit hub, located in Manc's City Centre; it's where you can board a bus, a tram, a commuter rail to destinations around the UK and even light rail to the airports. There are numerous hotels here also. The area was built up heavily & became a blighted concrete jungle in the 80s and 90s.
The resulting space was radically different from the old gardens, and the only links to the past that remained were the original statues.
Since the turn of the 21st century developers have been spearheading efforts to improve on what the locals complained was "cold modernist" concrete design and clean up much of the litter.

V I N T A G E S T O C K
#oldpostcard
#postcardstock
#deltiology
#vintagestock
#postcards
Vintage item from my post card and ephemera collections, free stock for yours.
Use however you like. Enjoy!



My Gallery
deviantart.com/yesterdays-pape…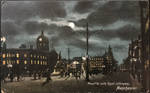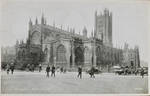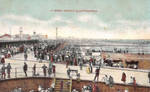 Deltiology
= the collection and study of POSTCARDS.



Watch Vintage-Postcards group
to see more old cards.
IMAGE DETAILS
Image size
1645x1041px 1.44 MB