19 Favourites
5 Comments
221 Views
Antique Easter holiday greetings post card
Circa 1911
Postmark Newark N.J
Printed in Germany
A hare bounds away, and church bells chime beneath blue skies and white clouds,
while a beaming angel in a sailor suit rolls an enormous yellow floral egg down
the lane, waving a bouquet of spring pinks in the air!
V I N T A G E S T O C K
#oldpostcard
#postcardstock
#deltiology
#vintagestock
#postcards
Vintage item from my post card and ephemera collections, free stock for yours.
Use however you like. Enjoy!


My Gallery
www.deviantart.com/yesterdays-…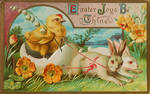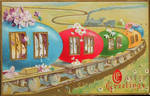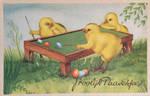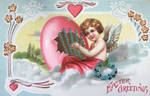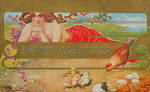 Deltiology
= The collection and study of POSTCARDS.

Watch Vintage-Postcards group
to see more old cards.
Image details
Image size
1755x2732px 1.79 MB
Date Taken
Feb 15, 2019, 3:18:38 PM

Thank you so much
Dark-WorkX
!

I'm thrilled that people are enjoying the collection. . . It's taken me a lifetime to compile them and it's been my dream to show them with creative, artistic and beautiful people such as yourself. I'm grateful to be able to come here each day and share. Use them, enjoy them! I adore seeing what people are inspired to do with old paper items.

Hello Yesterday-Paper, thank you very much for your words. I've been a fan of the old pictures and postcards from days gone by for a long time. They have a wonderful flair of their own. I am happy to have found your site with so many great vintage material. It inspired me very much to resume my work (after a small creative dry spell). Now I have freed up some of the content of the cards you have uploaded and processed it into new pictures. If you like, have a look at it on my website. It is important that the material is still freely (CC0) accessible and I would like to continue this on my page.
You are doing a great job and I want to thank you for that!
Here are the links to the vintage pictures:
Easter-Cards:
darkworkx.de/index.php?/catego…
Greeting-Cards:
darkworkx.de/index.php?/catego…
Cut outs:
darkworkx.de/index.php?/catego…
I wish you all the best and a lot of joy with your passion.

Dear Doro, What can I say? You are absolutely amazing! and I feel very lucky to have been the subject of your work. Thanks for doing what you've done to preserve the images for future generations.


Then we're both happy and it's perfect!

Thank you very much! I could not have formulated it better.