This is an untested/untried/unfinished version of a widget that I created some time ago. I just never quite managed to complete it. It used the Open Hardware Monitoring tool instead of useless old speedfan that gives inaccurate and incomplete data for identifying the sensors to external programs.
This new OHM version was created from the older speedfan version of the same widget. It still refers to speedfan in a number of places, you'll have to ignore that for now.
All javascript widgets need an engine to function, in this case the widget uses the Yahoo Widget Konfabulator engine. The engine interprets the javascript and creates the widget according to the XML description and using the images you provide.

This widget works with Windows XP SP3, it has been tested on Vista, Windows 7/8 and 10.
You will, of course, need the Yahoo widget engine for this widget to run. Link here
g6auc.me.uk/ywidgets_sdk_setup…
or the Mac version:
rickyromero.com/widgets/downlo…
Also requires Open Hardware Monitor :
openhardwaremonitor.org/downlo…

Thanks for uploading this. This one is working fine. Only thing I can't seem to change sensor names but I can live with that. Maybe I'm missing something obvious. I'll tinker around.
Reply

It was in development as a test for the OHM tool so it was largely cobbled together, as you find any bugs raise them here in as much detail as possible, or do it by the facebook page here and I'll fix them as they crop up.
Reply

Thanks. I realize this version wasn't finished. I'll try to explain the bugs I find.

I think the most glaring one at the moment is the fact that I can't change the sensor names etc. If the idea was simply to "check mark" the required sensor in the menu that pops up when you click on a gauge, then it seems to simply close the menu and the sensor stays as it was originally.
Reply

Reply

Update. I managed to change the two thermometer scales for CPU & GPU by I think opening OHM and double clicking on the required setting. I'm not sure if that's how its intended but those two scales are now reading correctly.
I still can't seem to change the gauges though.
Desktop is looking better and more steampunked by the day

Reply

What should happen is that the gauges find their own names from what is reported from OHM. In Speedfan and wondiws Vasti this functionality was broken by the o/s and the speedfan developer.

I aim to fix.
Reply

Reply

Will try to post image soon. Had some PC issues recently just fixed but need to re-install my Photoshop.
Reply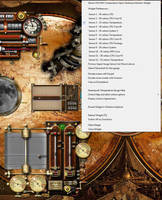 I'm not sure if this is what you mean. The menu shows the sensor the gauge is stuck on. This one (the 1st sensor gauge labelled 3 in your main image) I can't change. The second gauge below it (labelled 4 in your image) can be changed.
The gauges labelled 12 & 13 (3rd & 4th sensors respectively) I can't seem to change at all through the relevant menu pop up as shown in the pic.
Of course it is entirely possible that I am misunderstanding the operational intricacies of the widget.
I do apologise. The image shows as "Thermometers by Hawkhurst". This is obviously incorrect. I don't know how to alter that. It took me long enough to find out how to actually post an image in comments, lol.
Reply

Do you go through phases or are you always tinkering with code and similar ?
You have a lot of interests and skills and a life as well - must be hard to get at the stuff you want to do.
Reply