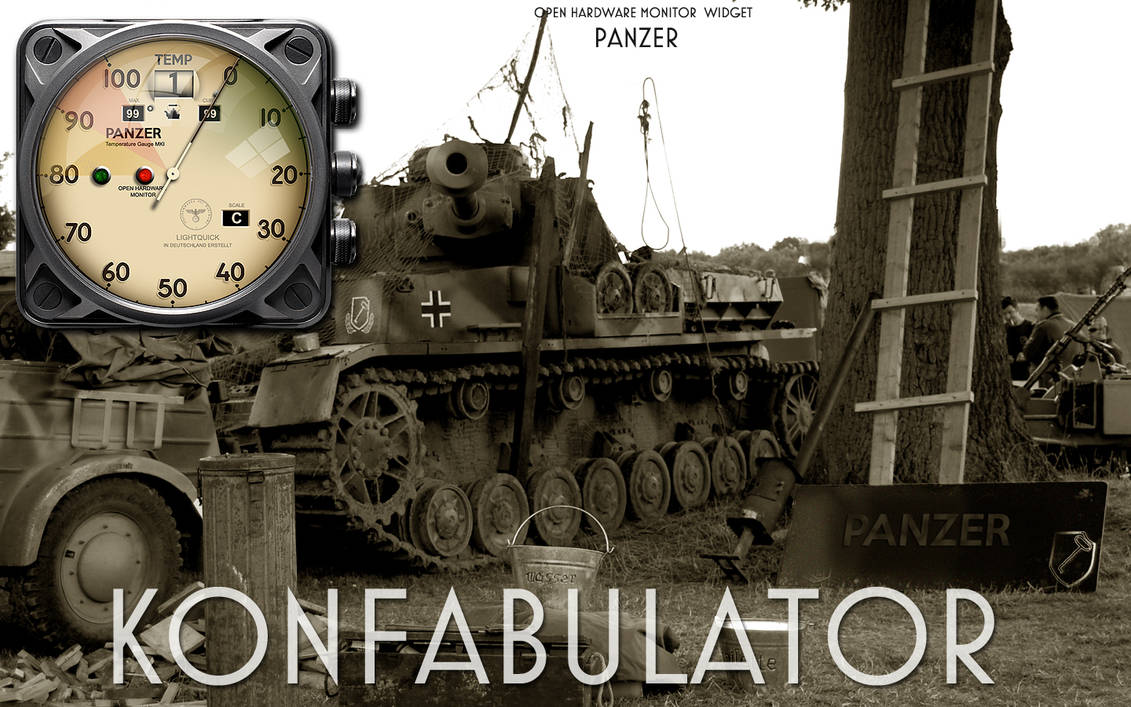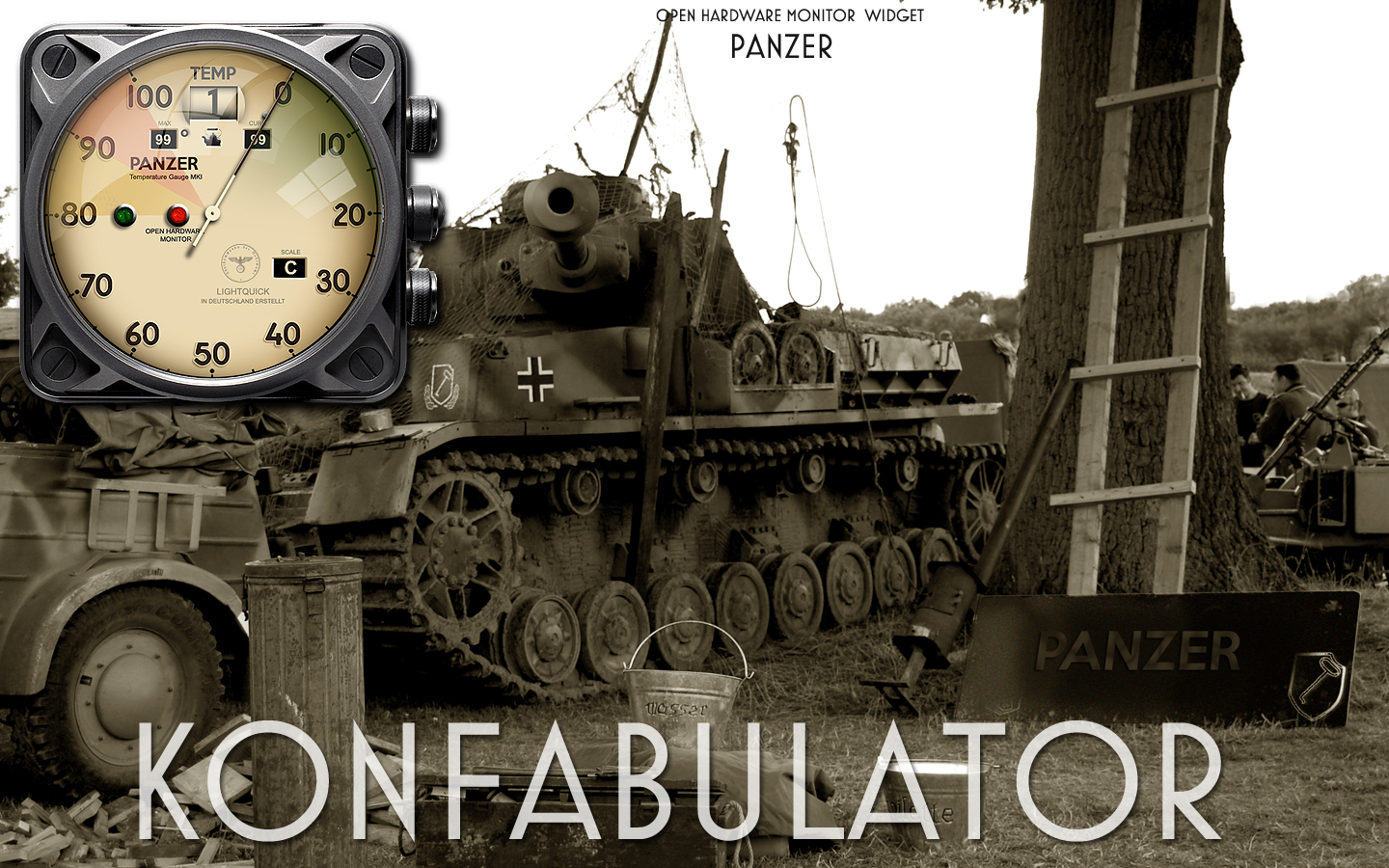 Watch
An interesting Panzer Open Hardware Monitor Temperature widget - I created this originally for the World of Tanks and War Thunder communities.
A bugfix update: now version 1.1
o Added a menu option to turn the widget's functions back on
o Changed the double-click action to open perfmon.exe by default on Windows and the Activity Monitor.app on Macintosh os/X.
o Added some development debug options
o Fixed a couple of very minor bugs
*NOTE* This is the Yahoo Widget version.
The Panzer widget is a pretty Yahoo widget for your desktop. It is a simple temperature gauge. Functional and gorgeous at the same time.
RESIZABLE using CTRL+MOUSE UP/DOWN.
*UPDATED* fixed to make the controls even more responsive, added handling for more sensors, bugs removed - now functions for MAC OS/X as well. Fixes a white background that sometimes occurs on start up.
This is a brand new widget and is untested on other software/ hardware except for Windows 7, 8, 10 and Mac OS/X - please test on other versions of Windows and report back any errors.
NOTE: On Windows you must have Open Hardware Monitor installed and running for this widget to operate. On OS/X you must have Hardware Monitor.
To find out how the widget operates, simply right click and select Help and a full explanation of all the buttons, windows is shown. The top left window is the maximum temperature experienced by the chosen sensor, top right window is the current temperature in digital form. The bottom right window is the current scale used. The middle button selects the scale. Hovering over any control should supply a pop-up explaining each function.
I took the screenshot photo. It looks like 1944 but it was 2004! The image above was shot at Beltring in Kent. I've had to do some serious photoshopping to remove any traces of modernity. There were lots. Addition of some grain, desaturation and addition of some light brown to give it a hint of old picture. I don't want it to look too old as it loses some of the immediacy.
STATUS: Completed I think. Any bugs please report.

THINGS TO DO: Nothing more than a bug or two, if you find any.


It is a fully working widget. Please feel free to download it.
Running the widget using a javascript engine frees javascript from running only within the captivity of a browser, you will now be able to run these widgets on your Windows desktop as long as you have the correct widget engine installed.
The Yahoo widget engine is here. g6auc.me.uk/ywidgets_sdk_setup… or the Mac version: rickyromero.com/widgets/downlo…

Also requires Open Hardware Monitor : openhardwaremonitor.org/downlo…

These widgets work with Windows XP SP2-SP3, Vista, Windows 7, Windows 8, 10 and Mac OS/X . Testing is in progress.

-oOo-

You may use any of my own images in your own creations but commercially only with my permission. In all other non-commercial cases I require a credit to the original artists using their/my name or pseudonym and a link to their/my sites. My creations use 90-100% uniquely created components. With regard to the commercial use of any incorporated images from other artists, permission would need to be obtained from the original owner.

OK Uncle which would be the way to go with this- Xwidget or Yahoo?
I running Win 8.1
Reply

Personally I prefer the yahoo widgets as they are more stable especially when you run a few gauges. I make the xwidget versions for those that prefer Xwidget or who only want to run one engine. I run both engines but keep the Xwidgets to a minimum. I have a couple of essential widgets that only run within Xwidget and I always have the Xwidget I am currently developing running as well. Apart from that it is all yahoo widgets. In this case the choice is really yours as they both appear from the user perspective to function in more or less the same manner. The operation behind the scenes is quite different and was a bit of technical challenge.

Done now though and I am happy with the result.
Reply

Well every time I see the Panzer gauges I think to myself I want a load of them on my desktop.
I'm still in two minds abut a hardware upgrade as well so it might be a while.
Reply

I'll have your old hardware...please.

The gauges use very little resource and they are very useful.
The temperature gauge especially if you need to keep your GPU under a certain temp. The CPU gauge is also very useful to me, Windows can be a bit rubbish at times, causing certain processes to consume CPU, the gauge just lets you know it is happening without having to fire up and analyse task manager.

Battery gauge is essential for me but of course not much use on desktops. Storage gauge is always useful-ish and the RAM gauge lets you know to remove some applications when you need to do a memory intensive task - most of yours are memory intensive.

I have two network gauges to bang out next, another technical challenge but do-able. Then when done, I'll work on some RAF designs. A basic clock is easy - a sector clock, so I'll do that, but how to incorporate it into a stopwatch design... We shall see if it works or not.
Reply

ooooh yes.... sector clock - never thought of that - nice one.
No rush, I'm off to the gym so won't be back for an hour and half or so

Reply

Good for you! I've been poorly with a cold, so I am doing my equivalent of the gym, a walk around the garden...
Reply

Thats a bugger. Well in that case I can hang on for the clock until this evening then

What we need is some sun and warmth. I hate the bloody cold and damp and will ban it when I become ruler of the world.
Give me hot sweaty weather, blue skies and scantily clad women
Reply

I am happy with just a crisp and bright spring day. The sun and some variety is what constitutes real weather. I lived in South Africa for several years and believe me, one persistent type of weather is awful.

Sorry I'm not quicker on the widgets - the result is easy to use but the code is actually quite complex especially with obtaining information from non-native mathods such as OHM and WMI.
Reply
(2 Replies)