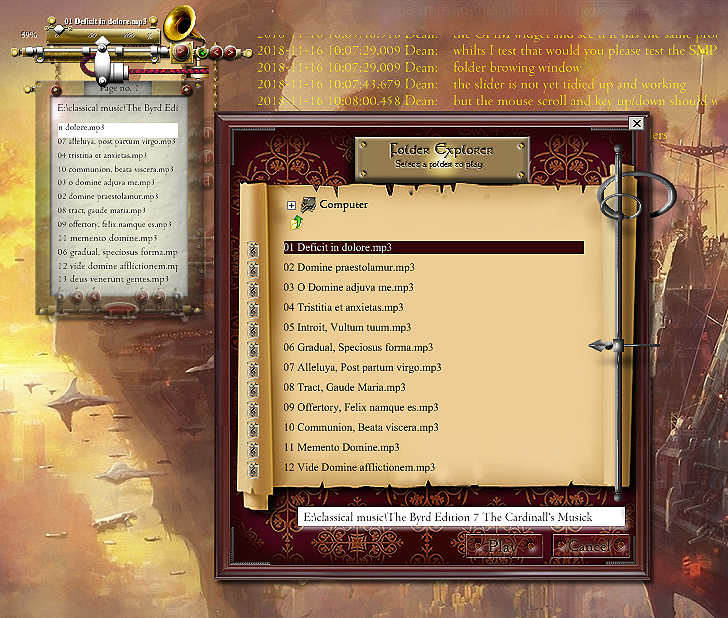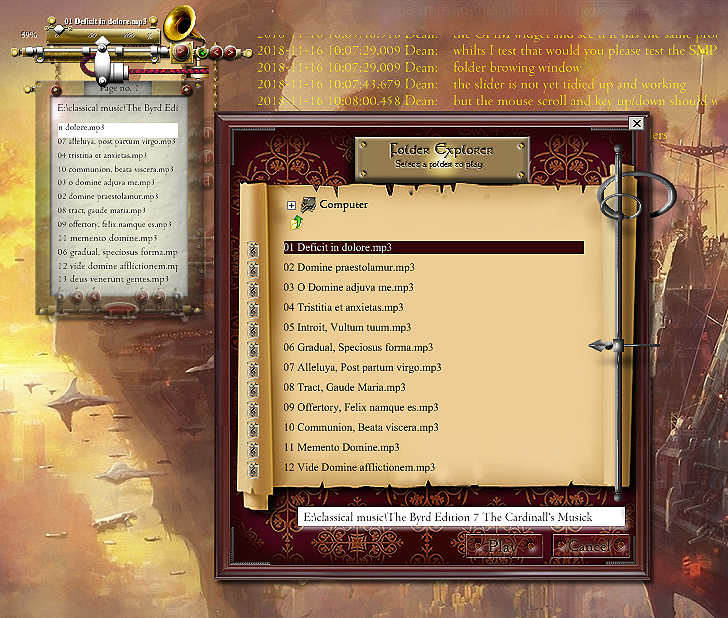 Watch
This is a skin I have just knocked up for a folder browser replacement. The default Windows browser is quite generic, modern (1980s design) and boring to the extreme. I deeply dislike Windows 10's massive and blocky UI elements. So dull, so corporate and so temporary.
This is my version of a folder browser, one I am adding to my steampunk media player. It suits it much better and I will use this skin again and again when I need it. The imaqe above shows it in folder mode showing the sub-folders that exist just below the current folder. It can also show files and act as file browser.
I still have some familiar elements to style, the folder icons, the computer icon but they are familiar enough and usable to be retained for the moment.
As it is my own folder browser code I can even change the font and so I am using the Centurion Light font rather than the dull Windows 10 default system font.
It would be usable as a medieval folder browser skin for a game such as Mediaeval Total War or similar, or as a Victorian Arts and Crafts themed folder browser.
-oOo-
The only condition for downloading and using is that you leave feedback. Please leave a message and rate the art as it is the only payment I get for creating this small desktop addition

You may use any of my own images in your own creations but commercially only with my permission. In all other non-commercial cases I require a credit to the original artists using their/my name or pseudonym and a link to their/my sites. With regard to the commercial use of incorporated images from other artists, permission would need to be obtained from the original owner.