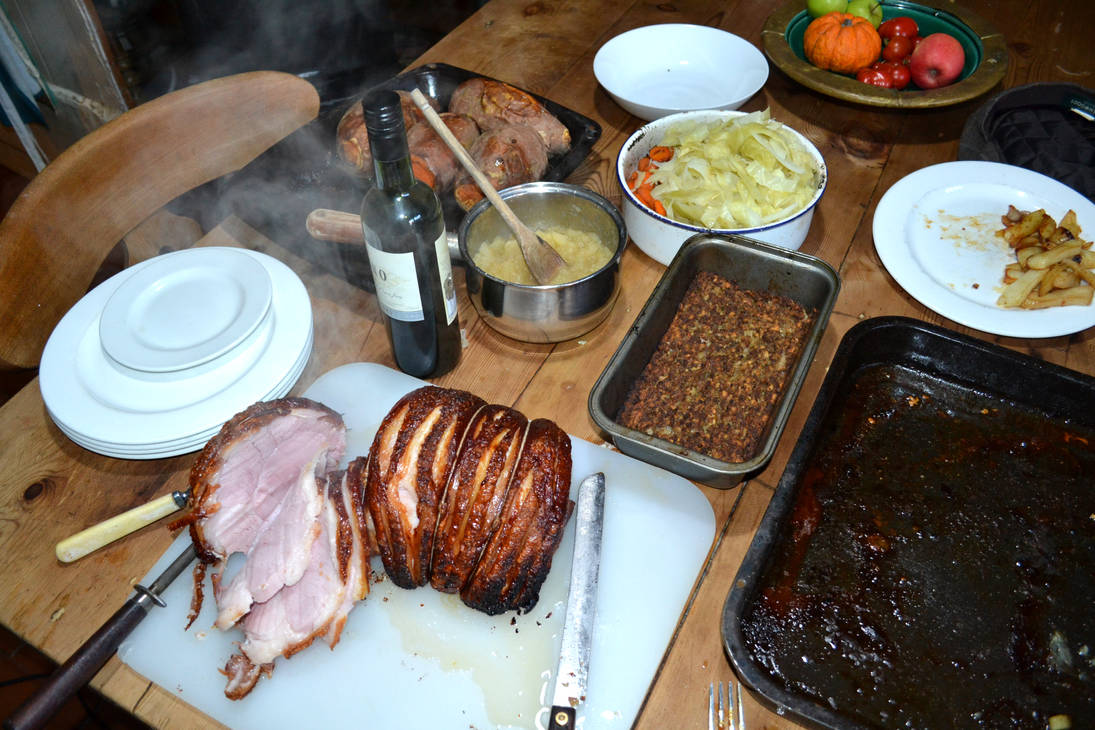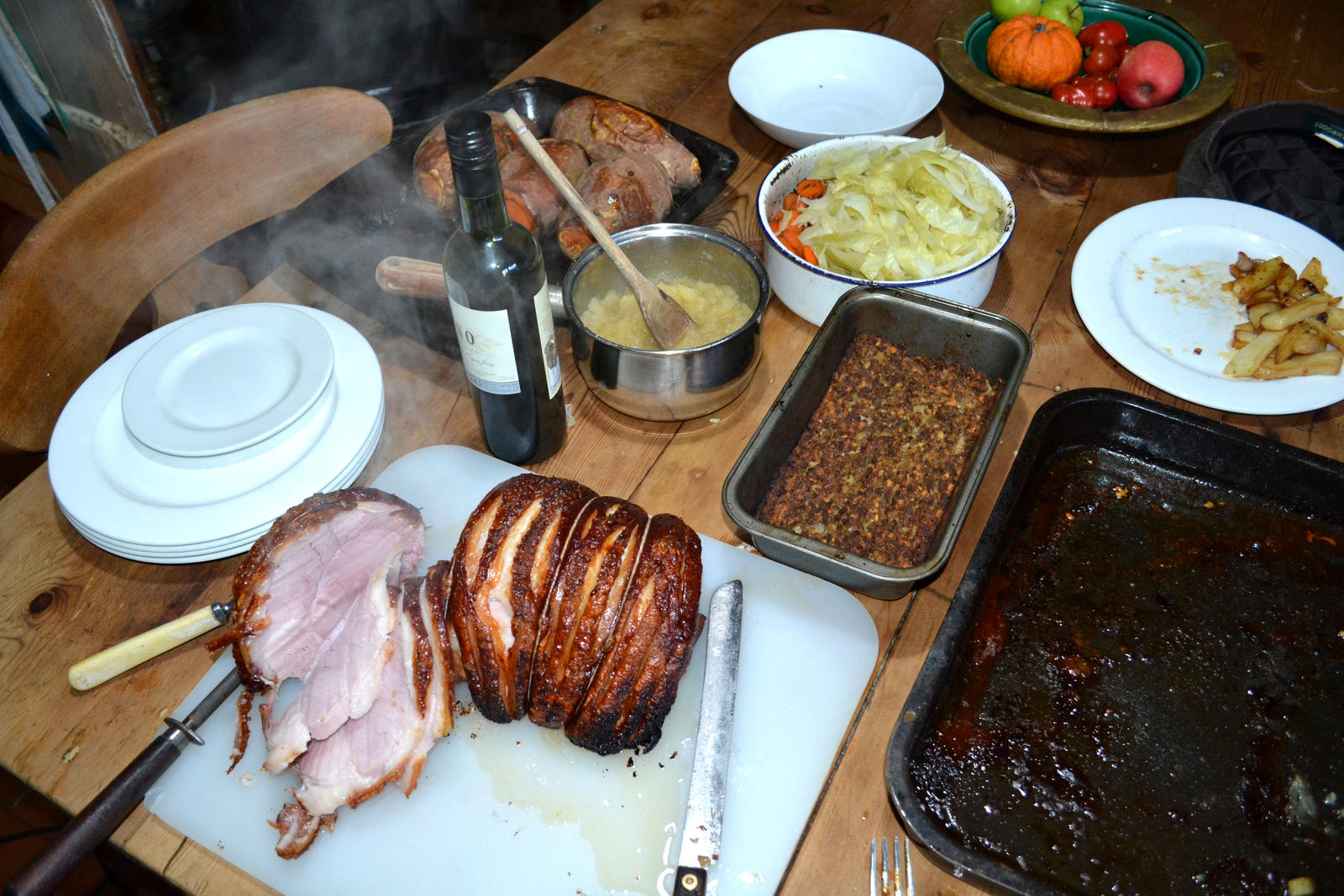 Watch
Roast gammon ham, homemade apple, onion and porkmeat stuffing, steamed cabbage, roast carrots in butter, sweet potatoes, home made apple sauce and a thick gravy sauce. Crunchy skin. Steaming.

I even made chips as my youngest won't eat sweet potatoes but most were eaten before the meal was even served...

Why would eating lentils and eating be mutually exclusive? Surely folk that eat meat also eat vegetables? (The reverse is not necessarily true) Do you eat tofu? Do you drink soya milk?
Reply

Reply

Well, I for one can't WAIT to see what you serve up for Sunday lunch tomorrow, my imagination is running riot!

Balut?

Lang de boeuf (en croute, naturellement) avec 'tetines'?

Ris de veau?

Looking forward to the pics, et ... bon appetite!
Reply

You roast a boiling ham? How do you make lentil soup afterwards?
Reply

Your knowledge leaves something to be desired in this respect.

A salted gammon ham joint comes complete with the skin. It can be roasted just as any other pork joint and leaves a lovely crackling if lightly cut, oiled and salted.
Here is a recipe for you showing you how it can be done:
www.bbc.com/food/recipes/tradi…
You can simply replace the boiling (which loses some of the flavour) with roasting in tin foil for most of the cooking and then removing the tin foil toward the end, then roasting the skin to make it crunchy.
Don't understand the lentil soup reference.
Reply

I know how to roast thanks. I just don't see the point when the boiling liquor can be reserved and used to make good lentil soup.
Reply

Now I understand the lentil reference. I use the juices from the roast to make the gravy. Those that eat lentils here would not appreciate the addition of meat juices.
Reply

Looks yummy.

Reply

You really have to stop this or I will have to wear a bib when looking at your images to catch the drool

Reply

The crackling, ooh the crackling.
Reply

That was in a Kenneth Williams voice in my head

Reply

I met him once and my mater worked with him
Reply

Thats so cool and so is the fact that he is still alive bless him.
Reply

Reply

Shit, I was thinking about Leslie Philips - he's still alive.... I think
It was the "Ding Dong"...... was that Philips ?
....its all going dark again and I can hear the voices .....................aaaaaaaaaaaaaaaaaaaaaahhhhhhhhhhhhhhhhhhhhh!

Reply

Leslie is still alive. Did you hear about Lesley in the tube train? He was travelling by tube and sitting on a chair and a few had surreptitiously noticed him, a chap sitting opposite says, "go on, do it..." and Lesley Philips, says "oh alright -
Ding - Dong..." and the whole train erupts into laughter.
Reply
(1 Reply)

Reply