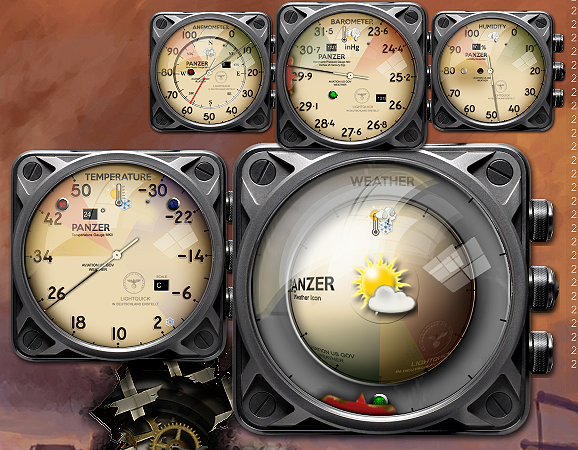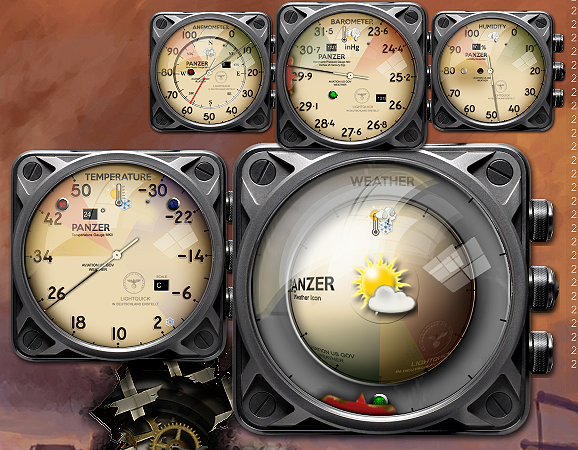 This is a desktop weather widget. It runs on Windows and Mac OS/x.
It gets the weather on a user-defined interval displays the results in four gauges. It takes the weather from forecasts provided by airports and airfields. If you can find an airfield nearby that has an ICAO code then it will supply local weather data. You enter your local town name and if it has an airfield then it will have a forecast. The data feed is provided by Aviation Weather GOV -
aviationweather.gov/
latest fixes:
// some new preference/configuration options
// time to next poll indicator
// time to next poll indicator tooltip
// after a sleep it ought to try to poll
// after a sleep the error message should be suppressed
// the error message should only appear after 'n' defined attempts at polling
// anemometer face for wind speed in m/sec and code to switch
// kelvin face for the temperature gauge and code to switch
// fixed the text window displaying an overload due to an undefined value
// fixed the text window displaying an incorrect value
// when you change the face on a gauge (knots to m/sec for example) the clipboard text should change too
// when you change the face on a gauge the tooltip text should change too as above
// fixed the storm warning drop lamp indicating too early
This widget is still in BETA and there are a couple of bugs. Relay back any that you find and I WILL fix.
To do list:
// placement on startup - overlapping gauges - try on the Win10 box first
// record help .mp3 for the icao code box using audacity
The widget consists of five gauges, a clipboard display and a tape reading device. The five gauges are: a barometer for telling the pressure; an anemometer for displaying the wind speed and direction; a thermometer for the temperature; a humidity gauge. The use of the five gauges will allow you to determine the weather in your local area and the likelihood of change. The fifth gauge shows the current weather in iconised form, this is be a summary of the information derived from the weather or the current weather forecast...
In addition there is a clipboard which tells you the weather in textual form.
Right click menus provide you with additional widget options and full help.
This is the first release of this widget and it has only been tested on three of our systems so far, Windows 7 64bit ultimate, Windows 10 32bit home and soon Mac OSX Sierra. We would appreciate feedback if you encounter a bug on your system.
These are javascript widgets. Running the widget in a javascript engine frees javascript from only running within the captivity of a browser, you will now be able to run these widgets on your Windows/Mac desktop as long as you have an engine installed.
You will, of course, need the Yahoo widget engine for this widget to run. Get Yahoo widget engine here.
g6auc.me.uk/ywidgets.html
On Windows the installation guide is simple, install yahoo widgets, extract the widget from the zipfile, double click on the .widget file and you are done!
On Mac OS/X it is a tiny bit more involved:
========================================================
Instructions for running Yahoo widgets on Mac OS/X, all recent versions including Sierra.
Edit the following file:
com.yahoo.widgetengine.plist which is in /Users/xxx/Library/Preferences. Look for these lines: <key>DockOpen</key>
<string>false</string>
Change to false if it is true.
Then you should be able to start Yahoo! Widgets and the menubar item should appear. Widgets can then be started from the menubar or by double-clicking them in the usual way.
========================================================
Do read the help for the widget - it is there in full and explains everything. The only thing you need to do is install and double-click on a gauge to get the latest weather.
Note: The zipfile provided here contains the yahoo/konfabulator widget ready to install.
-oOo-
The only condition for downloading and using is that you leave feedback. Please leave a message and rate the widget/icons as it is the only payment I get for creating this small desktop addition

You may use any of my images in your own creations but commercially only with my permission. In all cases I require a credit to the original artist using my name or pseudonym and a link to my own Deviantart page.

Very nice, thanks.

Only the clipboard will stay in the place I've put it in a multi-monitor setup. The rest revert back to wherever upon each restart, etc.

Would nice nice to be able to turn some of the sub panes off.

Would also like a 5-10 day forecast, if possible. Since widescape weather recently stopped working, you could have the last useful weather .widget around.
Reply

The movement thing is a problem - it was unfinished. I intend to fix this.

You'd like to hide a gauge or two?

The forecast is not currently available. The weather feed is provided by aviationweather.gov, a free feed that does not need an API key for each user. It does not provide all the forecast TAF data.
Reply

Reply

thankyou - a work in progress - I do a little more from time to time but it is nearing perfection. At least from my point of view.
Reply

Cool!
Or is it hot?
Hmmm.

Reply

Is this the final version ?
Reply

No, however it is good enough to allow some to download, not many will download it from DA as it isn't that sort of place... However a few may do and if there is no bad feedback then that will be good.

Your positioning bug is not yet addressed and I need to create a final weather forecast gauge which is currently eluding me visually.
Reply

eluding me visually
Have you tried using the force - worked for
Alec Guinness


Right, enough of this. I have a date with a mastic gun, some paint and various locations within SBD towers.
Reply

Sky Lukewarm may have access to the force but the gift was not given to me.

SBD towers?

I have some scaffolding up in the greenhouse, repairing the wood.
Reply

SBD towers - the ancestral home of the Small Brown Dog, fighter of the feline foe, keeper of the mystic golden bone and all round decent fellow


To be honest I am totally fed up of Star wars - it started quite a few films ago.
I have a thing for older English films and Alec Guinness is a fave, especially Kind Hearts and coronets.
Reply

SBD Towers, gottit. I'd forgotten the SBD thing. I don't think of you that way since I now know your real name, Slartibartfast.
Reply

Thats SBF which could be small brown fart ..... you git!

Reply

I watched Star Wars in, what was it '76? At the time I thought it was the biggest load of codswallop I'd ever seen. Having watched Star Trek in the 60s in B&W, then colour, I expected that by the 70s, the sci-fi effects and the genre in general would have advanced. What I saw was a typical Yankee cowboy shoot'em up where everyone good received a medal at the end. American culture is for 'kiddies' and most Yanks suit that epithet culturally.

I hate the lot so I've ignored each as it came out. I love the robot chicken version though.
Reply

Strange because I thought visually it was the next step and it opened a lot of doors . That late 70's early 80's pre CGI were very clever.
There is a documentary somewhere on that era and they are basically making it up as they go doing what would be photoshop techniques direct to film.
However, like you say, the bloody plot was naff and still is - the all American Han Solo character being even more annoying than Ford's character was in Hannover street. I guess its down to direction because in Blade Runner he is great.
Reply