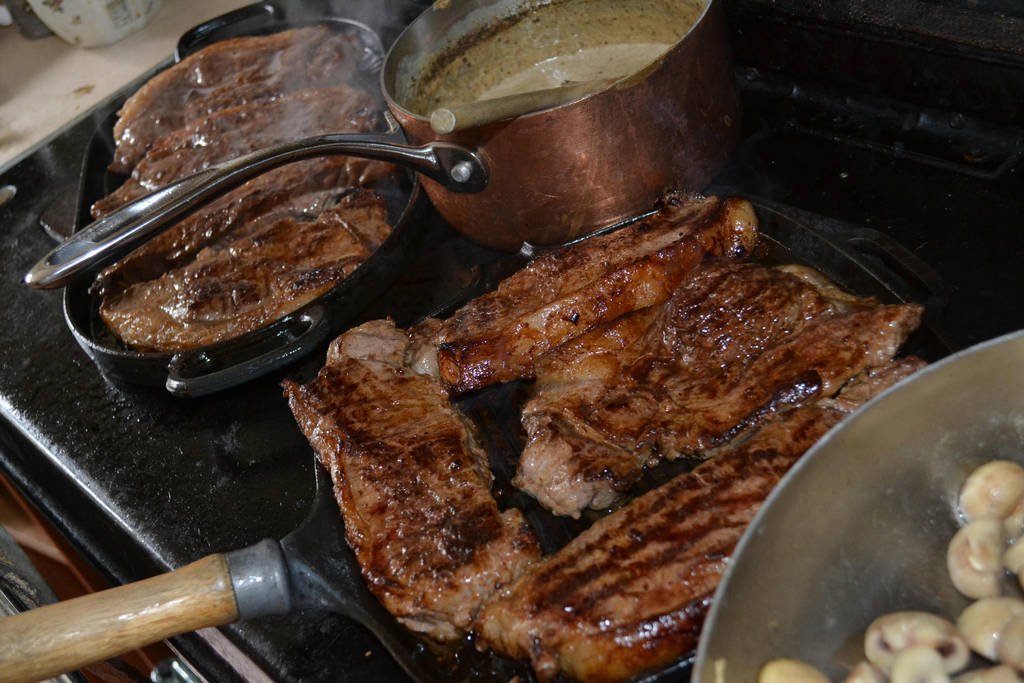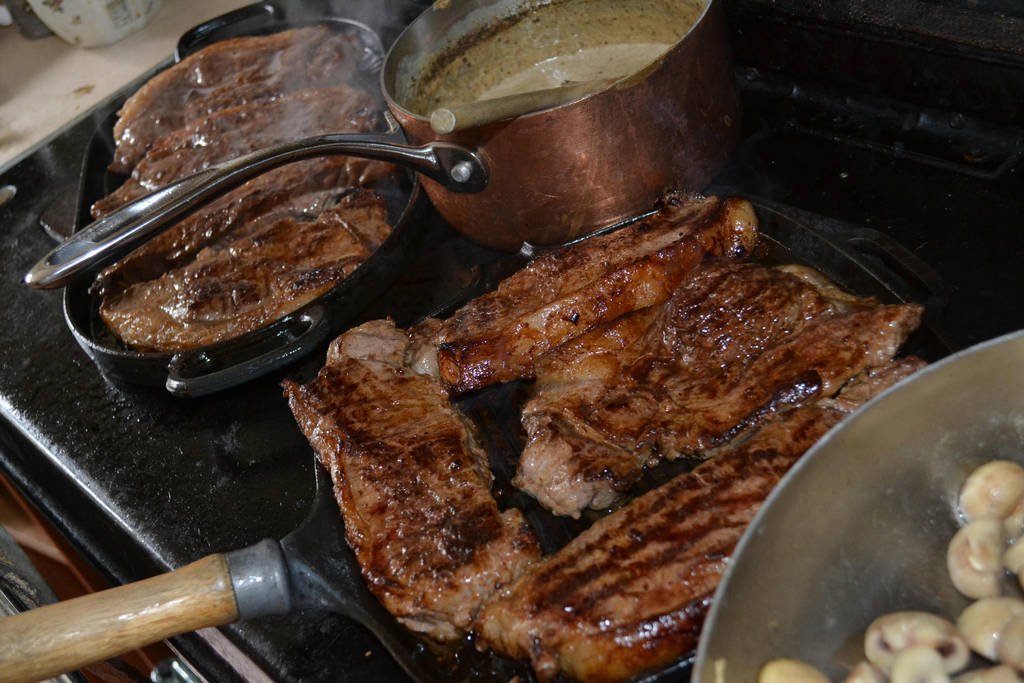 My birthday steaks! x 12 cooked on the griddle on the Rayburn. Happy Birthday to me... (I didn't eat them all but I could have). Not over-cooked, still a little pink inside, those steaks served with my own pepper sauce, pepper, cream and rum mixed with the juices from the meat. Fried button mushrooms in butter and garlic, asparagus and roast new potatoes. Rhubard crumble for afters...

It is hard to photograph food successfully, especially when it is being cooked in front of you. The chef does not want you there and even if your photo is a good one, it may muck up his cooking, an expensive shot! In this case though I was both cook and photographer.

A lot of food photography is staged using non-edible ingredients that are stable under hot lights. This was real food, nothing staged.

This shot was taken with a Nikon D3100 with autofocus enabled and using the built-in flash. No photoshopping required. Could be useful on a foodie website or magazine.

Reply

You two tickle me so much! It is educational, to say the least.

I for one want to see you uneat those steaks too, Unc!
Reply

Happy Bday! And Bon Appetite!
Reply

mmmmmmmmmm protein goodness!
Hang on. its not your Birthday until tomorrow so you will have to uneat them

Reply

Well, the whole family could come so I was able to have it a day early.
Reply

So, you better treat yourself some steak tomorrow as well - its only fair

Reply

My list of presents was unexpectedly large and amazing, starting with a set of Britool spanners from the 1950s to another whole electric bike... I have two now so when you choose to come over we can cycle to the coast/pub/chip shop/local abandoned USAF airfield (delete where applicable). In addition, some Tamnavulin whisky, a bottle of LBV port, licquorice, sherbert lemons, a crash helmet, two shirts, a whisky flask from the 30s and porky scratchings.
Reply

Not 3 bad. As a hint from an actual Scot, put 1 or 2 ice cubes in a whisky tumbler, then pour a pub double over it. The dilution and light chill both improve the flavours of the malt.
Reply

Thankyou for the advice, in general I'd take it (minus the ice) but with Tamnavulin, I tend to drink it neat without the angel's portion, no ice required. It is such a gentle but mature taste. Speyside malts when at their best are conducive to appreciating nothing more but the whisky itself.
Reply

Thats not a bad haul

The booze would be wasted on me but the other stuff - nice

You collect old stuff on a big scale or just bits and bobs?

Reply

The best tools are those made in the 1950s/60s. Accurate enough to be useful on modern devices, more solid than the current designs and better forged than current Chinese knockoffs. An equivalent spanner of the same quality today would be one of the snap-on brand at £45-£65 per spanner.
Reply

Yeah, I have some tool history experience and agree totally with what you are saying.
My old mans tools, which I kept (all imperial), were so damn good. On a sad note they are "gone" along with various aircraft crash site items including the lower half of a Carb off a Merlin Spitfire, Hurrincane spar components, crushed BF110 exhaust stacks and a full cam shaft from one of the same aircrafts engines along with some supercharger parts ... and it was my fault they are gone

Reply

No. You sold them? or let them go? The crash parts, your Dad purloined them when he was a boy?

I have some Me 110 bits, skin. I also have some mementoes from the house where Hess was being held in the South of England.

You twit you (but we knew that anyway).

Never mind. Swings and roundabouts.
Reply
(1 Reply)