Hello!! I want to become a more talented artist and I especially want to improve on my digital art!

Digital art has always been very difficult for me, even though I have a stylus pen and everything. Overall, I am not a bad artist, but I can improve!

Also, I am a very nice and welcoming person. If you need some to talk to or need some advice, I'm here! I'd like to try and be one of those people who helps other people with points and llamas, but I don't have enough points yet. Keep those donations rolling!

Thanks!!


Also: My sister is

!! Please check her profile out as well!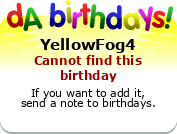 Favourite Movies
Rampage, Maze Runner
Favourite TV Shows
Stranger Things
Favourite Books
Maze Runner Series, All that I can Fix, Caraval (I honestly love reading so there's a lot more)
Favourite Writers
James Dashner (idk authors I just read and don't pay attention tbh)
Favourite Games
Minecraft, Lego Marvel Superheros, Chess
Favourite Gaming Platform
Xbox One