YazFlyChan247 | Female | Heterosexual
Hello everyone, You can call me YazFly or Yaz if you wish. (Or YazFlyChan247 or YazFlyChan XD) Everyone met me in October of 2017. I like crossovers from cartoons and also draw (On computer or in pencil and paper).
As I said before, I'm not only here to be very famous, I'm here to have friends and share my drawings to try to get attention. Anyway, welcome to my profile!

I usually upload a bit of everything in my profile (from 1 to 3 or 5), sometimes I do not upload drawings or emotes (I do that when I get bored) because I have many things to do on my life real. Almost sometimes when I'm not on my computer, I usually upload some drawings on paper by hand (Sometimes in drawings without color or with color).

Although almost in most of my drawings are almost MLP, sometimes with other cartoons that I love them (Except with cartoons that I hate like Dora, Masha and Peppa). And sometimes I feel love with fictional characters or something like that



My main OC is YazFly, since I had created and evolved it since 2013 (The year I had created YazFly) until 2018.

If you do not want to miss any new post on my profile, click on ''Watch'' and enjoy my drawings!



I'm a:



I'm from: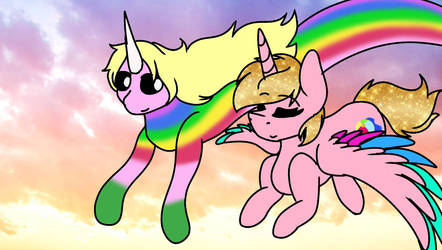 I am available in these social networks:



One of the favorite cartoons of the people:



Favorite phrase:

"I have no idea." - Yang (Yin Yang Yo), from the episode Brain Drain.



(But only for friends)



(Sometimes) (I do that sometimes too

)









Cartoons that I currently like:

Yin Yang Yo



SpongeBob Squarepants



Wander Over Yonder



Bunnicula



My Life as a Teenage Robot




Unikitty



My Fave Nicktoons:
My Nicktoon Number #1