I was just laying around resting up from Dragoncon today when a friend notified me of my Fook Mi costume having gotten a DD
yayacosplay.deviantart.com/art…
! Thank you so much to MorRokko for the suggestion and MyntKat for the DD.
I will post a photo filled Dragoncon report when I have the chance. For now here are my immediate post-con thoughts!
I remember sitting in High Velocity on Thursday night surrounded by friends thinking: "Didn't we just do this last night?" It felt like no time had passed since 2009!
Then again, the con flew by way too fast and before I could wrap my mind around it, we were tearing down the booth already and saying Good Bye to everyone. I don't think I ever get that sense of time distortion with any other event besides Dragoncon.
That being said, I had an amazing time this year and feel (for the most part) really satisfied with everything. All of my costumes and groups were successful, I was on time to all my gatherings and photoshoots and had no wardrobe malfunctions, yay. Thank you so much to all the photographers who did shoots with me and my groups - Leonard, Judy, Anna, Christa and Vince especially. I know how much you guys have going on at this con. I really enjoyed doing panels and thank everyone who came. My booth did well and we're already signed up for the same spot next year. I got to see most all of my friends, albeit briefly in some cases. Because of the booth we didn't party too hardy, I had maybe one or two drinks per night, though Melly makes hella good and strong drinks and her Margarita knocked me out Friday night!
I do feel like Dragoncon is changing for the worse and I miss the event the way it had been up until two years ago. Last year felt different and this year it's become more apparent how big the show has gotten and how the crowds are changing. The charm of Dragoncon is slowly dissipating. The infusion of football jocks is really frustrating. Also, the legends of Dragoncon being full of half naked wanton women has made con attendees more brazen and aggressive toward us girls. I no longer feel safe walking around the con alone, in costume or out. I know many many of other girls who feel the same way. It used to be that you stand in the Hyatt or Marriott lobby and literally all of your friends are there with you. It was safe, fun, and no one got harassed. Now everyone is spread out in different hotels and hang out at private room parties instead of dealing with the public crowd and security staff. I miss the good old days when you could just stand around for hours taking photos and catching up with 100s of friends.
There were other disasters this year like the Hilton fire, bloody fight in the Marriott, Stormtroopers robbing a bank, and a cooler being thrown off the Marriott and hitting someone. But I don't know details and can't say much about it all except that someone always has to go and ruin a good thing for everyone.
No matter what, Dragoncon is still the one event where I feel like I can dress up as whoever I want and still fit in. I am excited about next year and already have two epic costume group plans!
I will make a separate post about that later after I have recovered.
For now I'll say thank you to everyone who hung out with me and I look forward to all your con reports and photos. I have no photos to share yet of my new costumes, but am hoping to get some back soon. For the rest of the day I get to lay in bed and catch up on TV shows like Mad Men and True Blood! SO. Happy. Yays.
Preview shot of my Ame-Comi Wonder Woman, by Davin!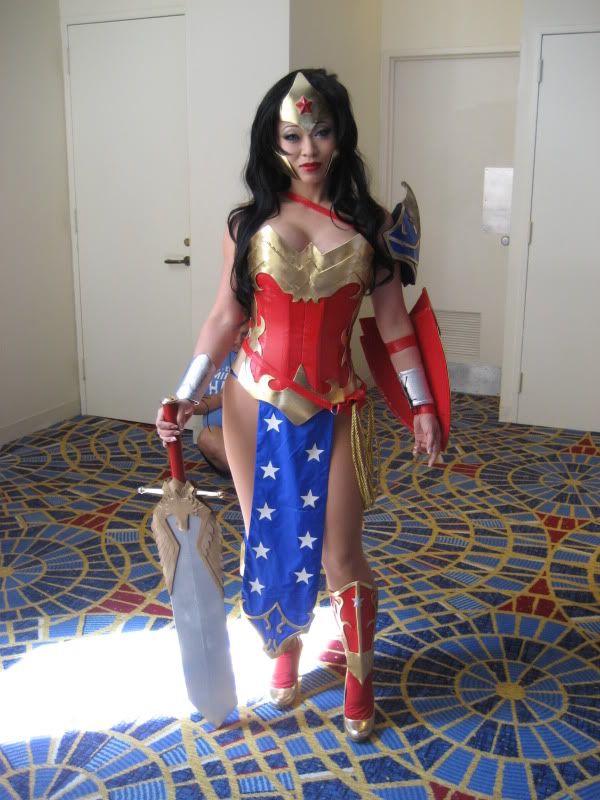 With Katie who's Wonder Woman makes me look like Mini Me lol