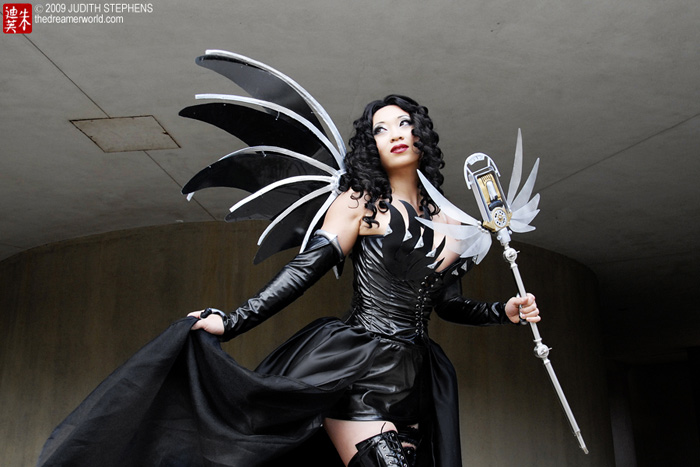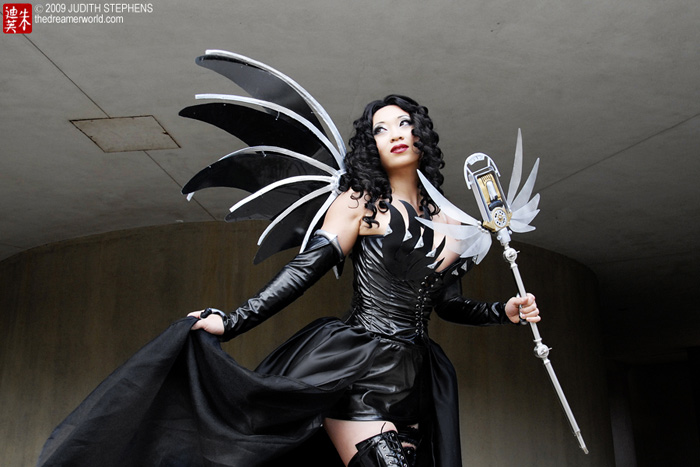 Watch
*********** Yaya on Facebook [link] ***********
*********** Yaya on Twitter [link]
This photo was taken by Judy
[link]
outside the convention center at Anime Central. I really like the lighting the dreary background, to match the dark elements of the costume.
Construction notes:
The character is Oruha from "Clover". I chose Oruha's signature black stage outfit, because that is her most memorable image to me. I made the corset, skirt, garter and arm warmers with PVC vinyl, but looking at the artwork her billowy overskirt seemed matte to me so I used matte bridal satin with a underlayer of organza for it. I made a mini hoop skirt to go under the satin skirt, and the corset has steel boning in it which help hold the wings on yay.
The wings are alright for being made in such a hurry - I cut out the "blades" in vinyl sheets and sprayed them black, and made a wire frame covered in Wonderflex. I used Barb's Suu wings as a loose size and design reference since I wanted my very very different outfit to match hers in some small ways. The wings separate and fold together and I especially made them small enough to fit inside my suitcase for the plane trip.The wing breast covers are heat formed plastic sheets cut out and glued together, and they velcro onto the corset. For the first two time I wore this costume, I had the vine tattoos all over my neck, but for ACen, there just wasn't time, so I only drew Oruha's clover on my chest.
The beautiful microphone was made by Brian of Bountyhardware.com
[link]
as a birthday gift. I told him he could pick between the wings or the microphone lol. I am not sure how he made the mic, but it definitely included sculpting, molding and casting and butchering some found parts. The whole thing is plastic and metal, and the base/rod swivels!