Bar-Mitzvah boy being me, celebrating my 13th year on DA, here to present 13 (see what I did there?!) of my personal favorite works on the site.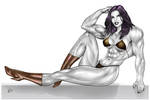 So, sometime in the late 90's I came across a site called DianaThe Valkyrie, and it really blew my mind - blowing a vauge liking that I kinda-had for buff women into a full-on obsession. I started drawing again, after a long hiatus, and perhaps for the first time in my life I was connecting to something real inside of me, a real passion. There's a lot more to be said regarding that period, but I'm not sure this is the place... Let's just say that I came into the 2000's a much more stable person - and what I went through in those years had a lot to do with it.
The above pic was hand-drawn, sometime in the late 90's - later colored in PS and posted in my early years here.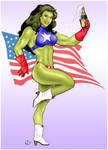 She-Hulk was the official superheroine of our community, and I did my part for the cause! Another early work, and still one of my faves.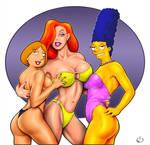 Fun time with Toon Town's most fun girls (well, in fan work, anyway!).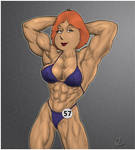 But my best gal was always Lois Griffin, and buff Lois is the best Lois! This is one of my works I love the most - everything just feels RIGHT! I even managed to use stippling, which was an insane technique which I've used for many years when drawing analog, to achieve a good digital effect.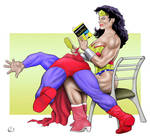 Yeah, domination... I consider myself a proud deviant (in all senses of the word), but I also find many aspects of the various obsessions and fetishizing of which I partake to be a bit... well, funny.
...And I'm nothing if not that! Many people don't know this, but I'm funny as hell! Hillarious, even!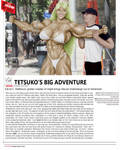 Though, admittedly, my sense of humor can be a bit... wordy. Maybe even somewhat on the bloated, heavy side. Like a Led Zeppelin, if you will. only, like - not really funny.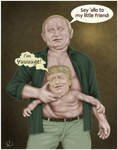 Sometimes, though, I can be quite concise.
Or that could be just a case of words failing me, in the face of utter stupidity/incompetence/corruption/cruelty etc.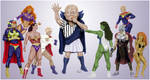 Yeah, let's go back to partying - in this case the Marvel and DC gals about to mix it up. I actually did this whole piece - which took a good week's work - just for the sight of Tigra trying to figure out how the hell she got in that spot and just how THE FUCK she was getting out in one piece...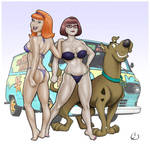 Nothing much to say about this one - just so happy about how SMOOTH the girls turned out...!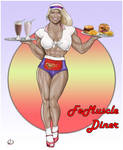 And, speaking of smooth: this piece didn't get as much love as I thought it would, but I think those legs are simply to die for (and all the rest is not so bad, either)!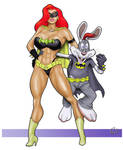 And how can I finish this without a tribute to the
Ultimate Dream Babe
?!
Or, maybe I should go out with the actually most favorited item in my gallery: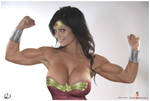 I like it well enough, but, well - a morph? [sigh]
And, yeah, I know that last one makes 14. So sue me!
(please don't sue me, I have house payments to make)