[RE-POST]
Hey there, guys! How's it going? I'm re-opening the colored scans folder!

Sorry for the inconvenience! There were other groups that do not accept colored scans because they were 'against dA's policies'. Being the panicky loser that I am, I removed the manga scans folder immediately lol. But I did research about copyright, tracing, blah blah all that stuff just to make sure, yep. Hours of endless researching & buckets of confusion later, I was able to decide to re-open the 'manga scans' folder.
OP, OP, WAIT. HOLD YOUR HORSES LOL.
We only accept colored manga scans WITH LINEART. If you only colored it without lineart first then it will be removed from the gallery.
"For what? It still looks like a colored manga panel!"

Please take a moment to read this and it'll answer your question:
[link]
---
I'll be making a gallery guide BTW! I'll post it once I'm finished~
And, I'm also planning for activities for this group, it's pretty quiet in here xD.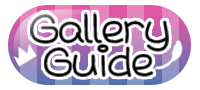 Please read the gallery guide first before submitting!

---
That's about it! Have a nice day, lovely peeps~ >w</ *wave wave* //slap