DO YOU LIKE MAGIC?
DO YOU LIKE MAGICAL MOUNTS?
---
YOU ARE IN LUCK!
TRANSMOG FUN
This is a small fun challenge for you to participate in. Maybe you already have one, wanted to get on or never heard of them?
In any way, transmogs are fun part of group and in this event you have chance to try them on and possibly win one.
The main idea?
Using any colderrian mount you have to simulate transmog's effect on it. Is mist one? Try to get your horse all steamed up. Grass? There is no easier thing than hanging wines on them. Flames? 
SET IT ON FIRE 
Anyways... There are no boundaries to your imagination, it just has to be explainable! 
You can use your magic but it would be much preferred to come up with some creative way to make it in natural way.
TRANSMOGS/PERKS
---
Reference sheet - Transmogs
Catch?
Once you sign up you will be given three transmogs to work with. That's right! They will be randomly selected to make it more interesting.
WHEN IN DOUBT USE OLD TRUSTED PAINT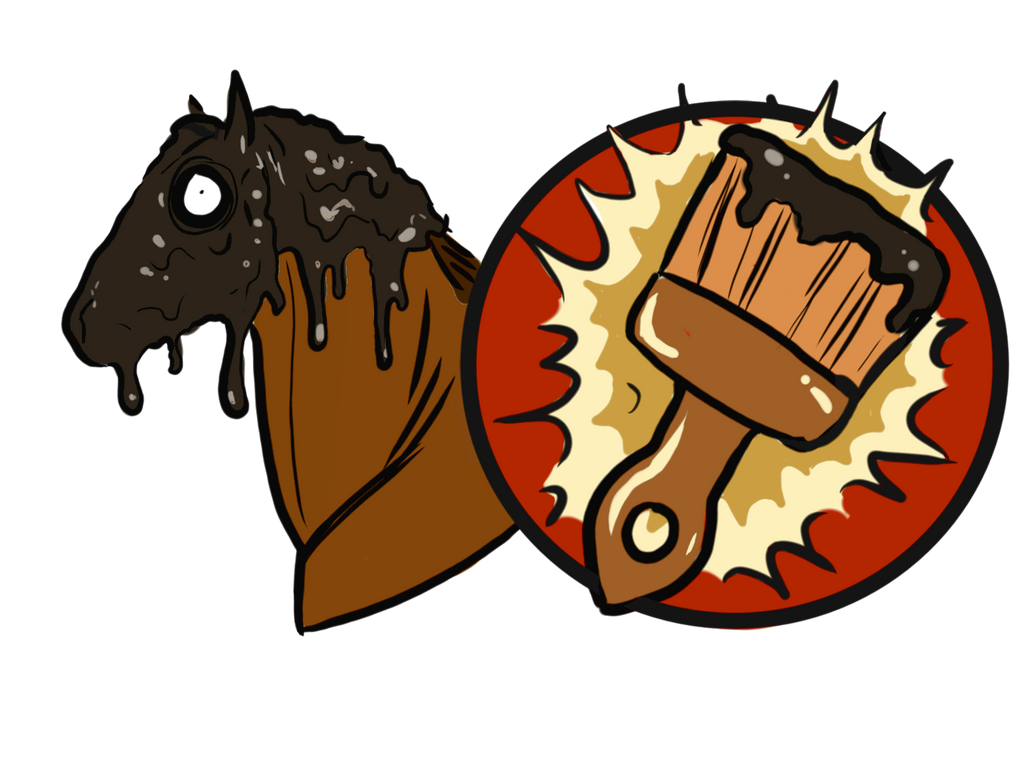 How to participate?
Comment under this journal saying that you wish to participate (you can also link your rider and mount - ONLY registered mounts!)
Wait for one of the admins to respond to you giving you three random transmogs
You have to choose one of them (no need to comment back)
Fun part, do the art!
When finished please comment back under this journal and state which transmog you used!




In it for?
Well fun of course!
besides that:
Everyone will get
+1 level
for their mount
Winner will receive the
transmog
they drew and their mount will be
leveled up
to the level need to use said transmog.
Rules:
Picture must be your own, tracing is alright.
Only open for Colderra mounts but for all of them.
At least simple background, no blurred photos.
Your rider/handler must be visible.
It must be in some way clear that it is not the actual transmog, but it can be just a detail, maybe wire or stuff you used to do it lying around?
Just drawing it like normal transmog and explaining it like 'magic' is not allowed. I wanna see some creativity!

--------
 JUDGED! 
So basically, I have to say all of the entries were too amazing and I could not help myself but feel bad for only picking one! Since I had to I wanted to at least make personal comment on each and thank everyone who entered! So thank you, you are the best! :3
WINNER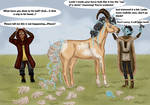 by 

Why I picked this? Simple: It was exactly what I hope for! 
Let's see: the transmog is amazingly portrayed yet still visibly only dressed up! Handler (and terrified owner) are visible and amazingly drawn! And it's so funny! .D just love this in so many ways! 
Congratulations to you!
+ enough levels to use the lvl.1 transmog
+ 1x Eye of the Storm transmog!
I hope this will make up for the mane and tail loss in some way xD
-----
PEOPLE WHO PARTICIPATED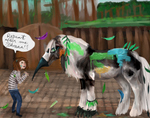 by 

This also was just perfect! So funny and heartwarming too, love your style! 
You improved in drawing humans a lot, btw :3 This one really is amazing, such cute and lovable style! Keep it up, I'll be looking forward to seeing more of this adorable duo!
Thank you so much for participating!
---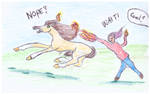 by 

Poor horse xD Carol should maybe keep her fire powers away from flammable manes next time?
But the horror is amazingly portrayed here and it made me laugh a lot .D and I felt guilty but couldn't help it any ways! Great entry!
I hope the horse survived xD
Thank you so much for participating!
---
<da:thumb id="740894221"/> by 

I love this alot, the setting, the colors and the fact you used cat for this! :3
What's more, the story made me laugh a lot! And the lights idea was just genius! .D (even though Sansa might think otherwise... but what does she know? xD)
Thank you so much for participating!
---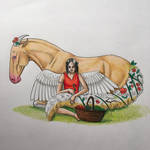 by 

I love this for how simple and tender it seems yet a lot of things are hidden there in details! 
Also love your art style and huge respect for such clean piece in traditional! I'm super happy to see that and can't wait so see more :3 also your humans are simply amazing!
Thanks so much for participating!
---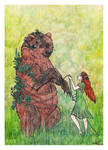 by 

What even to say? .D your traditional art is so amazing, so detailed, so stunning!
You have my biggest respect for drawing all that flowers and green! Also I'm so happy to see you participating with bear instead of horse! :3 + Isidora is looking as good as always!
Thank you so much for participating!
---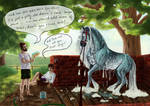 by 

To be honest? This took my breath away! It's hard to see from thumbnail but as I viewed it I just... I couldn't breath!
It's so cool and so pretty, detailed and everything looks so fitting in! Love the landscape, light, horse, setting, people and the story! Truly amazing, one of the candidates for victory!
Thank you so much for participating!
---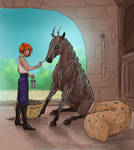 by 


So pretty and so calm again! I love how the horse is just letting her do it, helping her even by sitting down!
What's more she seems so interested by the paint on her nose which honestly is the cutest :3 and your humans are spectacular + the light, building and light... truly amazing!
Thank you so much for participating!

---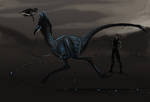 by 


SO SO SO SO COOL DUDE! I must say this was probably my favourite one in the badass/effect factor, just damn!
I love this so much, the atmosphere, the fact you used different animal than horse and just your style, it's so breathtaking! Another one of my favourites :3
Thank you so much for participating!

---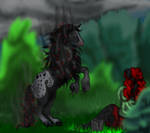 by 


I love the fact that you used the Diebel's Wound as no one else did you those riskant ones!
Also amazing ambitious pose of the horse and pretty color you have there! .D I can't actually see what exactly is it supposed to be but the red dots that are also attached to the horse (great!) are pretty!
Thank you so much for participating!
---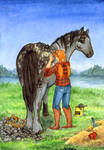 by 

OMG that is the most detailed one of all I think! Incredible amount of details!
Amazing, so amazing! I love the traditional art aspect, your style and just... damn! It's stunning, just stunning! Another one of my biggest favourites! :3 Also your anatomy is  top!
---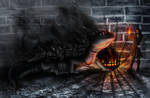 by 

Oh yes, gecko and fire king in the game! Yes, love this!
I really like the whole atmosphere and the fact you did not use horse for this! Also the rendering and both anatomies are great, love this pic a lot :3 glad you did make it!
Thank you so much for participating!
--------------------------------------------------------
OUT OF THE JUDGING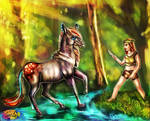 by 

I am a little afraid that you did not understand the rules... or so but the horse does not look like he is in costume which certainly took some points away from you :c
I still decided to let you get the levels as you work is stunning, love the colors and it's clear it took a lot of effort! I also like the design of the horse (even though it's made as if he has the transmog) :3
Thank you so much for participating!
I sadly can not let you fight for the win as there are some mild rules violations but you still get your +1.lvl for any horse!



BUT! THERE IS A BUT, YES!
As I feel terribly sorry for the fact that I had to pick only one and quilty I did not pick so many nice ones, I decided to also make one "community favourite place" which will be the same as winner!

All of the pictures of those who participated (excluding winner and the one out of judging) will be placed in pool! As there are so many of them I will make two pools, then after a roughly two days took the top two from each pool and make one final to decide for the second winner!

So stay tuned for that, the second winner will be announced in about four days!
Everyone who did not win gets +1 lvl. for any of their mounts!


I truly hope you liked this!

Thank you once again for participating and have a nice day!



 SECOND WINNER!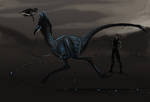 as chosen by the pool! Congratulations indeed! :3


Congratulations to you!
+ enough levels to use the lvl.1 transmog
+ 1x Eye of the Storm transmog!