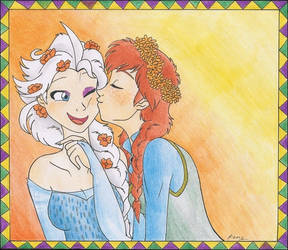 Frozen artworks
Fan art from Disney's movie, Frozen. Includes a lot of Anna and Elsa.
---

This is amazing! I can hardly imagine how strong she'd be in winter magic. Like the daughter of a Winter Spirit and the Snow Queen. What would she do if she ran into any enemies of her parents?! Case Jack is immortal, would she inherit a longer life span?? Or because Jack if forever looking young, could you imagine her trying to hangout with some new kids and he is tagging along. Something tells me that would make dating hard lol. Honestly, I am hoping you make a comic with her.

Can't wait to see more of this character of yours.