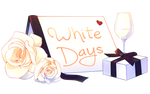 To take part of our lovely community, please join our
Discord!
By purchasing an Annie you agree to the
ToS.

Read more about the event here! ♥

DESIGNER

How many Blessings: 3
Rarity: Super rare
Eyes: Super rare glowing bubble pupils
Description of blessings and Annie:

Roesate Spoonbills belongs to 1 out of 6 different stork species.
They are androgynous in their appearance and so it is hard to tell their sexes apart.
They differ from being soft pink to bright magenta, depending on their location and diet.
The fly without much effort, due to their large wings, and enjoys gliding over water, in search for prey, or a calm time.
They have few predators, but has large competition over food in the waters.
The oldest wild spoonbill to be found was said to be over 16 years old!

Pink Dolphin or the Amazon river dolphin is the largest of the river dolphin species,
they live in freshwater and as the name suggests, they live in South America.
They acquire their pink color in adulthood and it is more prominent in males than females.
Studies have shown that they are less shy than their oceanic cousins, the bottlenose dolphin but also less sociable.
They are curious by nature and lack a fear of foreign objects and will investigate most things that come into the water.
In Amazon River folklore it is said that at night the male Pink Dolphin will transform into a handsome young man,
who seduces girls and impregnates them and in the morning he returns to the river and becomes a dolphin again.
The female becomes a beautiful, well dressed, wealthy-looking and young woman. She goes to the house of a married man,
places him under a spell to keep him quiet, and takes him to a thatched hut and visits him every year on the same night she seduced him.
On the 7th night of visiting, she changes the man into a baby and soon transfers it into his own wife's womb.

Pomeranian also commonly known as Pom is a dog breed from the region of Pomerania in north-west Poland and north-east Germany.
They were made popular by a number of royal owners since the 18th century.
Queen Victoria had a very small Pomeranian and thus the smaller variety became universally popular,
just during Victoria's lifetime, the size of the Pomeranians decreased by half.
Poms are very friendly, lively and playful dogs but can be very aggressive against other dogs in an effort to prove themselves.
They are intelligent and love to be the center of attention.



Optional Personality:


This sweet little boy shall not let looks deceive you.
Tiny in stature, pink in view and a soft smile--
War worn and a solider in high rankings,
his expertise of leaving no trace behind after a smash fest is not to underestimate.

He can be your worst enemy, out your blessing,
if you get on his good side, that is.
Also don't touch his pom.
AUCTION STARTS AT 200$
SB: 200$
Min Increase: 5$
AB: 600$
Auction ends after 24H after last bid.
Image details
Image size
3128x3067px 6.19 MB