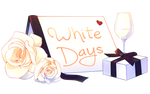 To take part of our lovely community, please join our
Discord!
By purchasing an Annie you agree to the
ToS.

Read more about the event here! ♥

DESIGNER

How many Blessings: 2
Rarity: Uncommon
Eyes: Uncommon Lion's pupils
Description of blessings and Annie:

Lions are most often characterized by their large, fluffy manes,
prominent roars, and adorable tufts at the ends of their tails. Their manes being a very vital feature,
as they are important to protect the lions' necks if they happen upon challengers.
The name "Lion" is most notably derived from the Latin word 'Leo' and and the ancient Greek word 'λέων' or 'Leon' Typically,
Lions prefer to inhabit grasslands, and savannas, and unlike many other cat species, lions are actually very social!
They tend to live in prides, which usually consist of three males, several related females, and their cubs.

The fragrant water lily/ white water lily/ American eater lily can often be found in shallow ponds,
lakes, and other small bodies of water as well as at the edges of some streams.
These lilies are very well known for their lovely fragrance,
after which they are named. In different cultures, water lilies have many different meanings,
those being beauty, purity, creation, enlightenment, love, life, and many others.
They are also considered to be prominent religious symbols to some cultures.



Optional Personality:


This boy has a soft, kind heart of gold,
and a passion for taking naps in sunny spots.
He is very in tune with his blessing, preferring to have paws instead of feet, as
he finds them easier to balance with, and travel through grasslands and
forests. He wears a long coat that reaches the floor, embroidered with gold
stitching in patterns that represent his fragrant water lily blessing, and a fluffy hood to
pridefully show his African lion blessing. His outfit
is adorned with many other accessories such as tassels, buttons, and braids,
all made of gold, to show his status. With him, he carries a bow,
having a passion for archery.

AUCTION STARTS AT 180$
SB: 180$
Min Increase: 5$
AB: 450$
Auction ends after 24H after last bid.
Image details
Image size
580x552px 288.87 KB