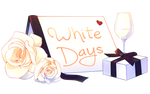 To take part of our lovely community, please join our
Discord!
By purchasing an Annie you agree to the
ToS.

Read more about the event here! ♥

DESIGNER

Day 5|2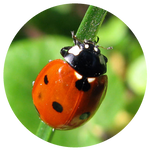 Blessing names:
Seven Spot Ladybird
(Coccinella septempunctata)
| Hoary Stock Flower
(Matthiola incana)
How many Blessings: 2
Eyes:
Uncommon shaped heart pupils
Description of blessings and Annie:

Coccinella Septempunctata:

Seven Spot Lady bird is a type of small beetle.
Typically, Lady Birds come in different colors and spot variations but this one specifically comes in red with seven spots.
To gardeners, they prove to be very helpful in keeping vegetation and fruits safe by eating pests who may destroy and infest them.
While they may have terrible eye sight they can adapt very easily to many different habitats that may otherwise be difficult for other species of insects.
People have historically associated them with luck and happiness, especially
with romance.
Matthiola incana:
Initially the Hoary Stock flower were harvested as they were believed to have some kind of medicinal use.
Now they are considered wedding flowers as they are said to bring beauty and happiness,
bringing about many different kinds of cutlivars, including it's single and double flower variations.
Because it doesn't fair well in summer-like conditions, it blooms better in cooler temperatures.
Surprisingly enough they are also related to other stock plants such as radishes and turnips so sometimes they're used as garnish.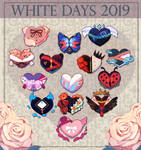 Optional Personality:


Elegant in poise and diction, this Annie catches the hearts of everyone he encounters, from innocent admiration to pure captivation.
His cheerfully playful demeanor is enough to lift anyone's spirits; it's almost as if a halo of positivity envelops his presence.
He has a habit of playing with hair, whether it's his own or someone else's.
AUCTION STARTS AT 180$
SB: 180$
Min Increase: 5$
AB: 450$
Auction ends after 24H after last bid.
Image details
Image size
827x990px 633.1 KB