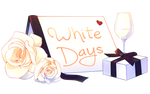 To take part of our lovely community, please join our
Discord!
By purchasing an Annie you agree to the
ToS.

Read more about the event here! ♥

DESIGNER
How many Blessings: 1
Rarity: Common
Eyes:
Common
Description of blessings and Annie:

The Althaea officinalis plant, otherwise known as the Marshmallow,
was initially used by ancient Egyptians and other cultures for herbal medicine practices.
The word "Althaea" from Greek origin even means to heal or to cure.
Over time though, it was discovered that the roots of this plant could be used to make the delicious marshmallow treat we know today!
In terms of appearance, the flowers have five creamy white petals with a fuchsia colored cluster in the center.
The light green stems can grow from 3 to 4 feet (1 to 1.5 meters)!
The plant is also used in culinary dishes such as salads or fried dishes,
and was considered a delicacy to some cultures like the early Romans.
White Day is celebrated in Japan as the day when guys return their gifts,
back to women from whom they received chocolates or any gifts.
This celebration began as "Marshmallow Day,"
when a Japanese confectionery company introduced "Marshmallow Day",
as a means of promoting their marshmallows specifically towards men,
encouraging them to buy return gifts for Valentine's Day.
So some would even say that this extraordinary plant helped start the tradition of White Day!
Optional Personality:


A soft and delicate sweetheart, this boy is ready to melt your heart!

His poofy shorts, hat, and sleeves pay tribute to the fluffy Marshmallow treats made from his blessing!
His hair also has buns in the shape of flowers, similar to the
Althaea officinalis flower.
He embodies his blessing in his pure soul.
A cozy child whose hugs feel like you're melting into soft bed sheets. Unexposed to the world, he is easily shaped by those around him.
But his innocence becomes his strength in allowing him to enjoy each day's happiness.
♡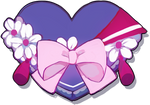 AUCTION STARTS AT 140$
SB: 140$
Min Increase: 5$
AB: 300$
Auction ends after 24H after last bid.
Image details
Image size
1627x2282px 2.17 MB