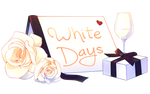 To take part of our lovely community, please join our
Discord!
By purchasing an Annie you agree to the
ToS.

Read more about the event here! ♥

DESIGNER

How many Blessings: 1
Rarity: Common
Eyes: Common
Description of blessings and Annie:


Blue morphos are one of the largest species of butterfly in the world.
Despite the name, only males of the species actually appear blue, to intimidate rival males and to attract the attention of potential mates!
Their blue colour is actually a result of how light reflects off their wings, which are composed of microscopic diamond-shaped scales.
To protect themselves from predators, the underside of their wings help them camouflage and possess large eyespots to fool pursuers.
Optional Personality:


This Annie is unwilling to share his true thoughts with anyone save for the one he deems worthy of his affection.
He is very competitive and often challenges anyone who he sees as a threat.
From a young age, he was extremely vain and took great care to maintain his appearance, especially that of his beautiful wings.
AUCTION STARTS AT 140$
SB: 140$
Min Increase: 5$
AB: 300$
Auction ends after 24H after last bid.
Image details
Image size
2400x2400px 3.34 MB