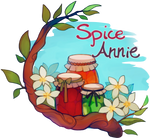 To take part in our lovely community, please join our Discord!

By purchasing an Annie you agree to the
ToS
.

DESIGNER

Day 6


Blessing Names: Sage | White peppercorns | Rocky Mountain Elk
How Many Blessings: 3
Rarity: Super rare
Eyes: Common round
Description of Blessings and Annie:

Sage is well known for its' relaxing aroma, often used in essential oils and candles, teas

as well as for cooking purposes! Many describe sage leaves to have a scent akin to mint,
having a cooling effect when inhaled along with a strong herbaceous quality.
Another
common use for sage is cleansing one's home or environment of
negative energy by
burning the leaves. It's said that burning sage can also promote wisdom
and clarity,
White peppercorns are very similar to Black peppercorns in their taste,
though White
peppercorns are used more for aesthetic purposes to avoid
the appearance of black
flecks in some dishes. Ground white pepper is often used to add
flavor to soups,
marinades for meat and poultry, and stir fries!
Rocky mountain elks have the largest horns of any elk species, often reaching
over
114cm (45 inches) in width, and are often recorded to weigh at least 18kg (40lbs)!
This particular species of elk was nearly extinct, but were reintroduced
into the wild
in 1913. While it's commonly believed that the reason for their
near extinction is due
to hunting, the larger reason is actually human encroachment,
destroying their natural
A lone traveler stumbles through the dark woods,
lit only by the thin pinpricks of
moonlight shining through
the forest's thick canopy. Their body is weak and tired,
littered with wounds,
and they soon find themselves falling forward with exhaustion.
Yet to their surprise,
they find themselves in a gentle embrace. Confused, they glance
up to see
what they can only presume to be a goddess. With hair as white as moonlight,
and kind eyes matching the green leaves twirling around her antlers, she offers
a gentle
smile before the traveler falls into a deep sleep. Upon awakening,
they find that their wounds
have healed, and by some miracle, they'd made it to
the forest's edge. In trying to remember
the night before, an angelic woman comes to mind,
though they're unsure if she was real, or simply
AUCTION STARTS AT $350
SB: $350
Min Increase: $5
AB: $750
AB2: $950
Auction ends after 24H after the last bid.

[AB2 includes a reference sheet of the Annie]
Image details
Image size
4218x4952px 10.39 MB