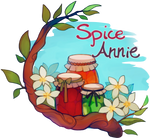 To take part in our lovely community, please join our Discord!
By purchasing an Annie you agree to the
ToS
.

DESIGNER

Day 5


Blessing Names: Cayenne Chilli Pepper | Great White Shark
How Many Blessings: 2
Rarity: Uncommon
Eyes: Uncommon Vertical slit shark pupils
Description of Blessings and Annie:


The cayenne is a bright red chili that is very popular, and is used in a variety of dishes and flavorings.
Cayenne peppers are considered a somewhat hot pepper, ranging from 30,000 – 50,000 SHU.
Cayenne also contains numerous medicinal properties and are good for your health!
Whites are the largest predatory fish, found in cool, coastal waters around the world. They grow to an
average of 15 feet
(4,5m)
in length, though specimens exceeding 20 feet
(6m)
and weighing up to
5,000 pounds
(2260 kg)
have been recorded. They have slate-gray upper bodies to blend in with the
rocky coastal sea floor, but they get their name from their white underbellies. They're streamlined,
torpedo-shaped swimmers with powerful tails that can propel them through the water at speeds of
up to 15 miles
(24km)
per hour. They can even leave the water completely, breaching like whales
when attacking prey from underneath.
True to her blessing, this Annie has a fiery and hotheaded personality. A daredevil, with a penchant
of getting intro trouble, her craving for adrenaline might put off weaker-hearted Annies. Though she
isn't particularly easy to get along with, it's impossible not to get swept up in her dizzying energy.
AUCTION STARTS AT $220
SB: $220
Min Increase: $5
AB: $520
AB2: $720
Auction ends after 24H after the last bid.

[AB2 includes a reference sheet of the Annie]
Image details
Image size
3304x3621px 4.21 MB