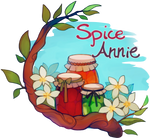 To take part in our lovely community, please join our Discord!
By purchasing an Annie you agree to the
ToS
.

DESIGNER

Day 4


Blessing Names: Pink Peppercorn | Black Peppercorn
How Many Blessings: 2
Rarity: Uncommon
Eyes: Common round
Description of Blessings and Annie:


Black pepper aka Piper nigrum is a flowering vine in the family Piperaceae, cultivated for its stony fruit,
peppercorn as a spice and seasoning. When fresh and fully mature, peppercorns are around 5 mm
(0.20 in)
in diameter, dark red, and contain a single seed. Peppercorns were a much-prized trade good for thousands
of years, often referred to as "black gold". Black pepper can come in a variety of colours depending on the
stage of growth and milling which include red, green, and white. Black Pepper, the spiciest, is berries that
are picked unripe. Berries used for White Pepper are ripened on the vine and soaked so that their outer hulls
are easily removed. Green Peppercorns are immature berries freeze-dried or packed in brine for preservation.
Black pepper gets its heat from Piperine instead of capsaicin found in chilly pepper.
Pink peppercorns are dried berries of the shrub Schinus molle, commonly known as the Peruvian Peppertree.
As a member of the cashew family, overuse may cause anaphylaxis to those hypersensitive to tree nuts.
Although not related to commercial pepper (Piper nigrum) the berries are sold as pink peppercorns and
often blended with commercial pepper.


A spiced, floral aroma greets you as you enter the conservatoire, a lady sits in the centre by a glass table
decorated with a variety of cuisines from around the world. Though shrouded in shadow, her face holds a
sense of warmth that you feel your shoulders droop from relaxation, making your way to sit on the only other chair.
She holds her posture with a level of elegance developed over a timescale you are unsure of, her eyes holding
secrets of empires from bygone eras you have only read in books. She slowly stirs the tea with delicate precision,
a tender smile gracing her speckled face when she offers you the fragile cup. You know not how you got here,
or where you are and yet you feel most at peace beside her, light scattering through the hazy windows which
paints the room in opalescent shifts. A chuckle leaves her mouth while she carefully strokes the side of her teacup
- maybe you don't know but she certainly does.
"What do you know about your destiny?"
AUCTION STARTS AT $220
SB: $220
Min Increase: $5
AB: $520
AB2: 720$


Auction ends after 24H after the last bid.


[AB2 includes a bust shot of the Annie]
Image details
Image size
2480x2480px 3.1 MB