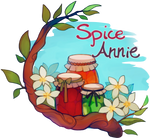 To take part in our lovely community, please join our Discord!
By purchasing an Annie you agree to the
ToS
.

DESIGNER

Day 2


Blessing Names: Ghost Pepper
How Many Blessings: 1
Rarity: Common
Eyes: Common round
Description of Blessings and Annie:


Ghost Pepper is an interspecific hybrid of chili pepper. On the Scoville scale, it's 1,041,427 SHU,
or "exceptionally hot," making it one of the spiciest chili peppers in the world; for a while it was
actually considered the hottest until other breeds of chili pepper were discovered. If too many
Ghost Peppers are consumed in a short period of time, one can die from the amount of capsaicin
ingested. While it is used as a delicious spice for meats, it's also weaponized due to the amount
of capsaicin contained in the pepper. It's often said to handle peppers of this caliber with gloves,
a mask and goggles due to how hot it is.


A studious and brutal Annie who takes great interest in all things macabre and science. She uses
her alluring aura to lure in potential test subjects for her eccentric experiments. Most do not come
back from such experiments the way they went in. She doesn't discriminate when it comes to picking
subjects, but she tends to avoid picking children and those who fall under "her type."
AUCTION STARTS AT $180
SB: $180
Min Increase: $5
AB: $400
AB2: 600$


Auction ends after 24H after the last bid.


[AB2 includes a reference sheet of the Annie]


Image details
Image size
787x1016px 898.75 KB