To take part of our lovely community, please join our Discord!
By purchasing an Annie you agree to the
ToS.

DESIGNER

Day 9 | 1
Blessing names:
Portobello Mushroom
How many Blessings: 1
Eyes: Common round
Description of blessings and Annie:
The utterly delicious Portobello mushroom can grow up to 10cm wide!
(4 inches)
It is a very nutritious large mushroom that is popular to put in the oven!
With a taste similar to cow meat, it is a popular choice as substitute.

A great method is to cook it upside down,
and use it's hat as a holding place,
for things like Feta cheese or spices!
It is native to Italy, and used to not be as popular as it today!
Many found the brown look unappealing and boring,
but due to being so healthy, it gained popularity in recent times!
It grows the best in the wild, shortly after rain!
However picking it can be quite a hassle,
as there are many poisonous lookalikes out there!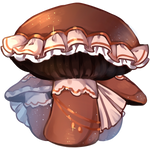 Optional Personality:

While the look of her blessing ain't extravagant, she treasures it with her whole heart!
Constantly trying new

recipes, together with salads, grilled cheese or as soup,




she tries to warm the heart of her fellow Annies with a cooked meal.




Hoping people will see the wonder of her blessing as well,




and maybe start to treasure it to.





Which is not the easiest with her shy demeanour,




but that just means her smile is even more to look out for,




when she notices you enjoy what you devour. ♥




AUCTION STARTS AT 140$
Auction ends after 24H after last bid.
Image details
Image size
1680x2388px 2.57 MB