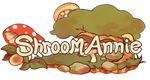 To take part of our lovely community, please join our
Discord!
By purchasing an Annie you agree to the
ToS.

Read more about the event here! ♥

DESIGNER
How many Blessings: 2
Rarity: Uncommon
Eyes: Common Round
Description of blessings and Annie:
The
Podoserpula miranda
is a species of fungus found in New Caledonia, and is often referred to as the Barbie pagoda fungus because of it's lovely pink hue.
Their lovely figure includes half-a-dozen caps shrinking in size from bottom to top, all emerging from a central stem that will reach 10cm in height.
The
Long Tailed Tit
(or mostly commonly known as the Korean Crow Tit)
is a small bird that is generally found in parts of Asia and Europe.
These tiny birds will grow to only 13 cm's in length and during maturity they often go through a moult right before their first winter.
And if this bird couldn't get any cuter, they are often called the "flying lollipop"!

Optional Personality:

With a pair of small wings to guide her in her journeys, this small pink sweetheart is quite the beauty to behold!
Adorned in soft ruffles and ribbons decorating her outfit and large overcoat, this Annie stands out with her creative little decor!
This sweet little Annie is just full of curiosity and adores exploring the nature around her.
Though her true side emerges when in her element, she can be shy and reversed around other Annies that may cross her path,
and will shy away from any kind of social interactions. But you may observe this sweet little cutie from afar,
as she flutters about with gold chains and accessories glistening in the sun.

Image details
Image size
3152x3364px 5.01 MB